New hope for Holy Land's minefield churches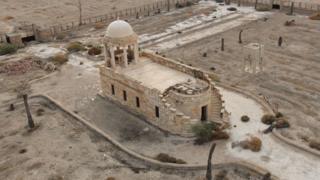 The soil is parched clay and crackles underfoot, and the only sound we can hear is birdsong.
The seven buildings on this site have lain silent and empty since 1967.
This is a place where pilgrims fear to tread, fenced off with barbed wire and a locked gate, even though it is bisected by the road leading down to the site on the River Jordan where Christians believe Jesus was baptised by John, and began his public ministry.
For almost 50 years, the churches - built in Byzantine times but later booby-trapped, mined and pockmarked by artillery fire - have been crumbling gently in the middle of a minefield.
It was laid mainly by Israeli troops during the 1967 War, when Israel captured the land west of the River Jordan, known today as the occupied West Bank.
Read full article New hope for Holy Land's minefield churches