Trump Xi: Property man meets career communist
7 November 2017

From the section

China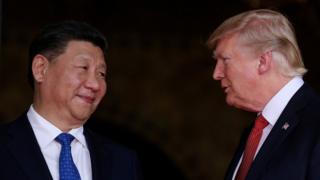 Donald Trump is the kind of person who occasionally gets locked up in Xi Jinping's China. A boastful billionaire, someone who thinks he is bigger than the Party, bigger than the national project.
Such a colossus can disappear to no known location for a period of quiet reflection with the help of the Communist Party's discipline enforcers, later to reappear muttering grateful homilies on what the Party has done for his business.
As President Trump and President Xi prepare to meet in Beijing, the contrast between the leaders of the world's economic superpowers is stunning.
Where senior members of Mr Trump's own Republican Party have dismissed his White House as an "adult daycare centre" , Mr Xi's Party lieutenants describe the Chinese president as a great and wise leader, "the saviour of socialism".
Mr Trump cannot even depend on fellow US capitalists. The titans of the American tech world are not travelling to Asia with Team Trump. Instead Facebook's Mark Zuckerberg. Apple's Tim Cook and Microsoft's Satya Nadella stood shoulder to shoulder in Beijing with President Xi last week for a group photograph of the advisory board for a top Chinese university.
Read full article Trump Xi: Property man meets career communist