Europe's migrant crisis: Tricky business to resolve
8 March 2016

From the section

Europe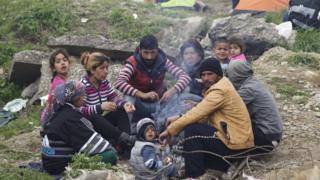 European leaders are billing their new proposal to deal with the refugee and migrant influx as a "game-changer", but the scheme is not agreed yet and there are doubts about whether it it is practical or even legal.
The centrepiece is a plan to take any refugees and migrants who cross the sea to Greece in smugglers' boats and return them, directly, to Turkey.
European Union officials say whatever is finally agreed "will comply with both European and international law". Privately, though, some admit that, while the assessment of their lawyers is "quite promising", there are legal hurdles that must be overcome.
So can Europe carry out mass returns of entire groups of people? UN officials have cited the European Convention on Human Rights, arguing that it explicitly prohibits the collective expulsion of foreigners. And they say that under international law, it is not illegal for someone fleeing persecution and conflict to cross a border and ask for asylum.
The problem with mass returns
Around 90% of those arriving in the Greek islands say they are fleeing conflict, primarily from Syria, Iraq or Afghanistan. Under international law, each person's case must be heard on an individual basis, not as a group, because they may have very good reasons for seeking protection.
Read full article Europe's migrant crisis: Tricky business to resolve