Farewell from Dave Lee - the BBC's man in Silicon Valley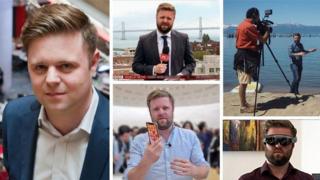 Today, I end what has been four and a half years as the BBC's North America technology reporter. Or, as our presenters mostly put it: "The BBC's man in Silicon Valley."
When I started, I predicted my time here would be spent witnessing the arrival of the next big thing, whatever on Earth (or beyond) that happened to be.
It was a time of peak unicorn: a flurry of companies reaching that all-important - though arbitrary - $1bn valuation.
Many told me I would imminently be covering another burst of the tech bubble.
I have to say, I was always more optimistic: this was not like the 90s "dot-com bubble". It still isn't.
Read full article Farewell from Dave Lee - the BBC's man in Silicon Valley