Huawei arrest puts 'bullseye' on Apple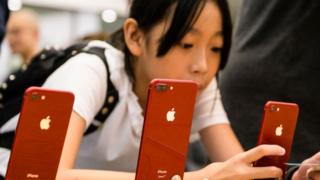 You don't need to look hard to see how the Global Times - the state-backed Chinese newspaper - is interpreting the arrest of Huawei chief financial officer, Meng Wanzhou.
"Washington's move to stifle Huawei will undermine itself," reads a headline. "Banning Chinese companies like Huawei will isolate US from digital economy of the future," reads another.
It's that second headline, the threat of isolation, that should give US technology companies considerable pause as we head into Ms Meng's 12th day of detainment in a Canadian jail.
The fallout from her arrest will surely mean, at the very least, an even more difficult relationship for the handful of US tech giants that have found great fortune in China.
In particular, Apple, the poster child for US tech success, and a company that relied on China for 20% of its revenues this past year.