When aliens attack Antarctica
12 January 2019

From the section

England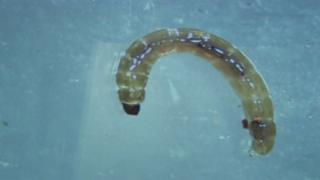 This tiny bug is technically the largest land animal that lives permanently in Antarctica. (Penguins and seals don't count as they are marine animals.) Unfortunately, it's not supposed to be there and new research from the University of Birmingham has revealed the size of the problems it's causing.
Eretmoptera murphyi is a flightless midge that arrived on the Antarctic island of Signy in the 1960s and, rather embarrassingly, it was brought there by scientists conducting an experiments on plants.
Plants from South Georgia were brought to Signy to see if they could survive the conditions. At the end of the experiment the plants and soil they grew in were all removed but by then it was too late as the midge and its larvae had long moved out and colonised the island.
Although we didn't actually notice this until the 1980s.
So why is this tiny little bug a problem? Well the peaty soils of Antarctica have never seen anything like it. Eretmoptera chews through the soils producing lots of nitrogen. It's acting like an earthworm in an environment that's never seen any earthworms at all.