Grenfell: Seven key points from the report
30 October 2019

From the section

UK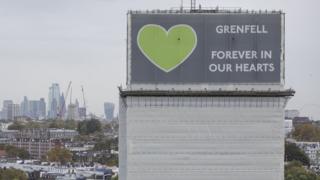 The report of the first phase of the Grenfell Tower fire reveals how the fire began, spread and became a disaster. These are some of the key findings which will influence the deeper investigation of the inquiry's second phase - into how it could happen in the first place.
There was swift action by the resident of the flat where it began
The first 999 call came from Behailu Kebede at 00:54 BST, who lived in Flat 16. His smoke alarm woke him up and he saw what was in all probability an electrical fire at the back of his fridge freezer. He called for help, alerted neighbours and waited for the London Fire Brigade to arrive.
Sir Martin Moore-Bick's report found Mr Kebede blameless. He turned off his electricity and closed the flat door to keep others safe.
In normal circumstances that would have been enough because Grenfell's original solid concrete structure meant each flat was "compartmented" - meaning a minimal chance of a fire spreading.
But his efforts were in vain because of how the building had been refurbished on the outside.
The first firefighters into the flat realised something was wrong
Read full article Grenfell: Seven key points from the report