Jack Letts: Why jihadi's parents are guilty of funding terrorism
21 June 2019

From the section

UK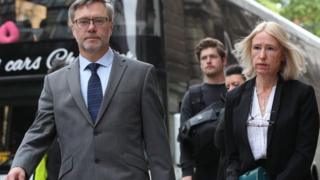 A former charity fundraiser and an organic farmer have been convicted of funding terrorism by sending cash to their son in Syria. So how did Sally Lane and John Letts end up before a jury in the Old Bailey?
In the words of one judge, they were "two perfectly decent people... in custody because of the love of their child".
And over four years, Lane and Letts battled to avoid trial for sending cash to their son, who had joined the war in Syria and the Islamic State group.
But now they have both been found guilty of a serious terrorism-related offence after a trial that came down to evidence of foreseeable consequences.
Jack Letts converted to Islam as a 16-year-old. His parents had supported his decision.
Read full article Jack Letts: Why jihadi's parents are guilty of funding terrorism