The pain of waiting for a knee operation
9 August 2018

From the section

Health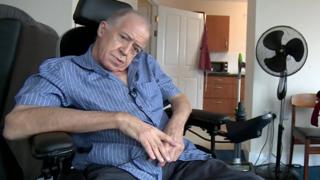 Richard Cubis, 69, has learned to live with Parkinson's - but it's the constant pain in his knee he finds most difficult.
He was put on a waiting list for a knee replacement in May 2017. Since then, there have been four cancellations.
Had it gone ahead, he says, he would have been able to walk a little and be less reliant on his wheelchair.
"I feel left behind - I feel disgruntled I wasn't put on a priority list," he says. "I feel a prisoner in a room because I can't get out no matter how hard I try."
His local hospital said it was very sorry but it had a significant backlog of cases. It is an experience familiar to other patients.