Tony Blair's warning to Labour evokes memories of Michael Foot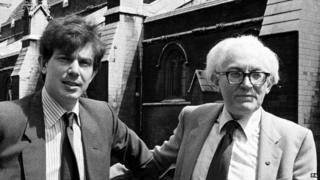 Tony Blair's warning to the Labour Party not to repeat the mistakes of the 1980s, which consigned it to 18 years in opposition, brought back memories of Michael Foot, its leader at the beginning of that lost decade.
Michael Foot died in 2010, aged 96. At his death, he was hailed by some as one of the great figures of the 20th Century Labour movement, even if others remembered him rather less generously as a disorganised and weak leader out of step with the times.
Mr Foot did, though, resemble some modern-day politicians in one respect: he graduated in politics, philosophy and economics from Oxford.
He first stood (unsuccessfully) for election in 1935, before going on to become a hugely successful and influential journalist and author.
He was also a founding member of the Campaign for Nuclear Disarmament, and built a reputation as a formidable orator and parliamentarian.
Read full article Tony Blair's warning to Labour evokes memories of Michael Foot