US military 'losing its competitive edge'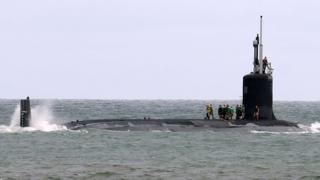 A panel of experts has issued a hard-hitting and sober assessment of US President Donald Trump's National Defense Strategy.
"The global role the United States has played for many generations rests upon a foundation of unmatched military power," its report says.
"Today however, our margin of superiority is profoundly diminished in key areas."
"There are," the study insists, "urgent challenges that must be addressed if the United States is to avoid lasting damage to its national security."
The National Defense Strategy Commission was tasked by Congress to give an independent, non-partisan review of the Trump administration's defence strategy. It was chaired by Eric Edelman, a former Pentagon official in George W Bush's administration, and Admiral Gary Roughead, a former chief of naval operations. These are insiders who know their way around a defence budget, as well as the corridors of the Pentagon.