Trump May meeting: The Wacky Races of news conferences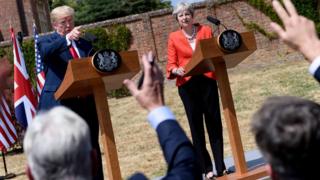 To say it was a sub-optimal start to a news conference would be an understatement.
In fact a huge British understatement. In fact, frankly ridiculous.
Overnight, Donald Trump had given an interview to the Sun newspaper in which, given the febrile state of UK politics, contained three utterly deadly quotes.
The first was that if Prime Minister Theresa May went ahead with her Brexit plan as hammered out at Chequers last week (and which led to the resignations of two cabinet ministers), then it would "kill" a trade deal with the US.
The second zinger from the president ahead of his joint news conference was that May hadn't listened to him over how to negotiate Brexit with the EU. "She didn't listen. No, I told her how to do it," he told the Sun.
Read full article Trump May meeting: The Wacky Races of news conferences