IMF lines up behind Treasury on Brexit costs
17 September 2018

From the section

Business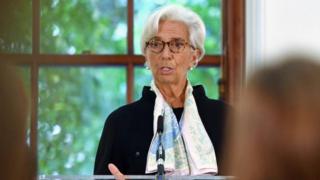 Last December, Christine Lagarde was in a more positive mood.
Globally, economies were growing at a "reasonable" pace.
Recent progress on the Brexit negotiations between the UK and the rest of the European Union were "welcome".
Both sides had just agreed the outline of the withdrawal agreement and divorce bill.
Nine months on and today a much bleaker assessment from the International Monetary Fund (IMF) and its managing director.
Read full article IMF lines up behind Treasury on Brexit costs