Spain's general election: What just happened?
29 April 2019

From the section

Europe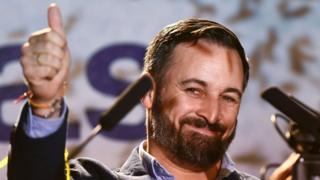 After weeks of Spain's resurgent far right hogging all the headlines, didn't the centre-left just win a resounding victory?
Did Spaniards have a last-minute change of heart? What does this all mean?
Spain's Socialist party members will certainly have the biggest smiles on their faces this morning. But landslide victory this was not.
The party improved massively on its last performance in national elections. It managed to take control of Spain's upper house of parliament too, but still lacks a majority to govern.
Financial markets and the EU would ideally like to see the Socialists now jump into bed with the centre-right Citizens' party (which prefers to describe itself as "liberal") but a more likely Socialist party partnership is with populist left Podemos, with added support from Basque and possibly Catalan parties.
Read full article Spain's general election: What just happened?