The week ahead in Parliament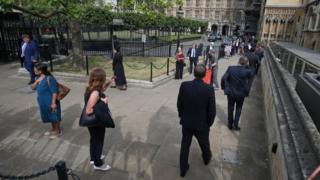 Parliament's new normal is still not very normal. True, bill committees are back, with the Finance Bill, the Domestic Abuse Bill and the Immigration Bill among those under detailed scrutiny in the larger committee rooms, where social distancing is possible.
This week also sees the return of Ten Minute Rule bills, with a couple of interesting legislative proposals on regulating London pedicabs and on local energy. These are often put down more to make a point than in any serious hope that they will become legislation, but it has happened in living memory.
The not-normal bit is voting. They can't vote at all in the House of Lords, which means that the. Most significant phases of Lords proceedings, Report Stage consideration of bills, where amendments are often made, and where the government sometimes loses, are not happening, and probably won't happen till September.
The Commons does have a voting procedure, but it is so unwieldy that most MPs loath it, and the 40-plus minutes of queuing round the Parliamentary Estate involved - which is why Monday will see an emergency debate on the conduct of proceedings, and quite possibly further attempts to bring back the online voting system.
As usual during the pandemic, some of the most significant events will be ministerial statements or urgent questions, dropped into the schedule at a few hours' notice.