Gulf crisis uniquely difficult strategic moment for UK
22 July 2019

From the section

UK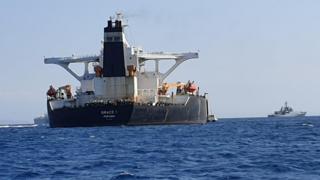 The Gulf crisis catches the UK at a uniquely difficult strategic moment.
Its military means are quite limited, Iran's are greater than many might think, and the option of defaulting into its usual partnership with the US is not straightforward because of disagreements over the wisdom of breaching the nuclear deal.
For this reason, on Monday, UK Foreign Secretary Jeremy Hunt suggested that the response to the crisis should include a "European-led maritime protection mission", complementary but separate to the US effort.
The issue, he insisted, was one of freedom of navigation in the Straits of Hormuz rather than increasing pressure on Iran.
The UK's options for protecting its merchant shipping in the busy Gulf sea lanes are distinctly limited.
Read full article Gulf crisis uniquely difficult strategic moment for UK