Prince Charles warned Tony Blair against GM foods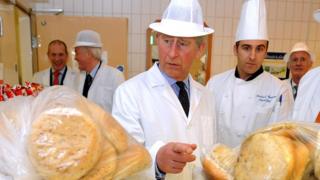 The Prince of Wales wrote to the then Prime Minister, Tony Blair, in 1998, criticising the development of genetically modified foods.
In the letter, he accused the biotech industry and scientists of "increasingly frantic promotional efforts" and praised Mr Blair for agreeing to meet opponents of genetic modification, defending them from the charge that they were "hysterical, extreme and anti-progressive".
The prince told the prime minister that an unfamiliar technology was moving faster than public acceptance.
This is revealed in a copy of the letter obtained by BBC News under the Environmental Information Regulations (EIR) - nearly three years after requesting it from the Cabinet Office and dealing with a series of objections that were overruled by the Information Commissioner.
The Cabinet Office first refused to say if it held any relevant material and then denied the letter contained environmental information, although the regulations specifically state the definition of "environmental" covers "genetically modified organisms".
Read full article Prince Charles warned Tony Blair against GM foods