Climate change: Five things we've learned from Madrid talks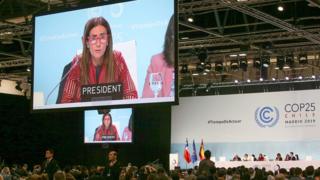 At the conclusion of UN climate talks in Madrid, our environment correspondent Matt McGrath considers the key lessons.
1. Leadership is REALLY important
COP25 in Madrid only happened because the Chilean government, faced with mounting civil disorder, decided to cancel the meeting in Santiago.
Spain stepped in and in three weeks organised a well-resourced and well-run event.
However, the fact that it was being run by one government, while hosted by another, gave rise to severe difficulties.
Delegates were highly critical of the fact that when it came to the key text about ambition, the Chileans presented the lowest common denominator language first, resulting in a huge number of objections from countries eager to see more ambition on carbon cuts.
Read full article Climate change: Five things we've learned from Madrid talks