Cyclone Idai: What's the role of climate change?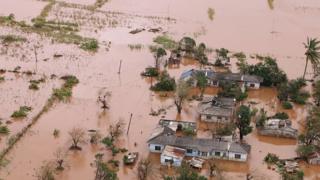 Unless a rich benefactor steps in, the role of human-induced climate change in Cyclone Idai is unlikely to be clearly determined.
The scientists with the expertise simply don't have the resources to do the large amount of computer modelling required.
However, there are a number of conclusions about rising temperatures that researchers have gleaned from previous studies on tropical cyclones in the region.
While Cyclone Idai is the seventh such major storm of the Indian Ocean season - more than double the average for this time of year - the long-term trend does not support the idea that these type of events are now more frequent.
"The interesting thing for the area is that the frequency of tropical cyclones has decreased ever so slightly over the last 70 years," said Dr Jennifer Fitchett from the University of the Witwatersrand in South Africa who has studied the question.
Read full article Cyclone Idai: What's the role of climate change?