Liam Fox: Cabinet 'argument' over customs union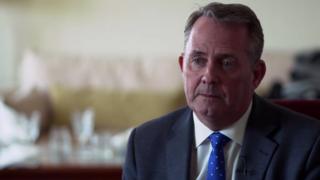 Liam Fox is to raise concerns in cabinet at the failure of his party to highlight the "totemic" issue of an independent trade policy in a nationwide leaflet for the European elections.
The international trade secretary confirmed that he is facing an "argument" in cabinet to prevent Theresa May conceding a customs union to the Labour party.
In an interview with BBC Newsnight Dr Fox also said he expects voters to use the European Parliamentary elections to register a protest at the UK's failure to leave the EU.
The cabinet minister added that if the UK fails to ratify the prime minister's Brexit deal by the EU's October deadline then the UK should be prepared to leave the EU without a deal rather than revoking article 50.
Dr Fox was speaking to Newsnight during a visit to Iceland to drum up new trade deals with countries outside the EU after Brexit.
Read full article Liam Fox: Cabinet 'argument' over customs union