US election 2020: The defining moment of the Trump presidency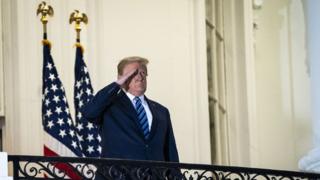 What four years ago would potentially have been regarded as the defining moment of the Trump presidency?
For his red-capped supporters, perhaps it might have been the completion of a wall along the southern border, celebrated with a topping-out ceremony at which the Mexican president handed over a cheque to cover the costs of its construction.
Maybe it would have been the sight of China capitulating in a trade war or North Korea surrendering its nukes. Or, more fantastically, the spectacle of Hillary Clinton being placed in handcuffs as she was led off to a federal penitentiary, the "lock her up!" chant made real.
None of those things, of course, has come to pass.
Instead, future historians of Donald Trump's first - and possibly final - term in the White House will regard the coronavirus crisis as its defining event and the president's contraction of Covid 19 as its culminating moment.
Read full article US election 2020: The defining moment of the Trump presidency