Last tango in Llandudno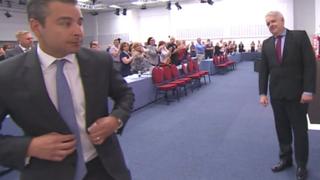 The sun is shining so where better place to post my final blog as political editor than in Llandudno.
And there was an end to an era feel to events here when Carwyn Jones addressed the annual conference of the Wales TUC for the final time before he stands down in December.
He was returning to the scene where six weeks ago he stunned the audience at the Welsh Labour conference by announcing his departure.
Since then he has looked increasingly relaxed but I am not sure that was shared by the union leaders in the audience who potentially face being overwhelmed by the tidal wave of support for one-member-one-vote to elect the new leader.
They fear this waters down their influence.