'It's a high-speed high-risk strategy'
15 July 2019

From the section

England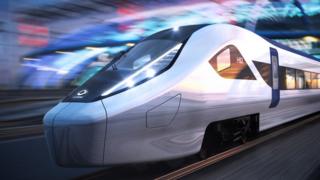 It was one of those routine stumbles in the crucible that is the Sunday Politics Midlands studio. Normally I'd do my best to shrug it off.
I had mangled my words during an interview about high-speed rail after Jeremy Hunt, in Worcestershire on the first day of his regional leadership campaign, had told us he was "a supporter, a very strong supporter, of HS2... because whoever becomes prime minister must govern for the country as a whole".
Given that the 165,000 or so Conservative Party members who are deciding this election include so many in counties like Warwickshire and Staffordshire which are set to experience so more of the "pain" than the "gain", I had intended to describe the self-professed underdog's pronouncement as simply "a high-risk strategy".
And yet the accidental addition of "high-speed" had fortuitously produced something quite appropriate!
Jeremy Hunt also pointed out, in that Friday morning interview at a factory just outside Kidderminster, that his opponent "wants to scrap HS2".