Mural should be painted over, Southampton student union president says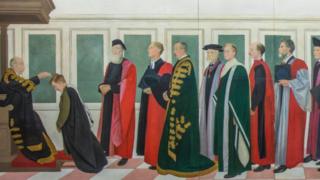 A students' union president has sparked outrage by saying a mural dedicated to war heroes should be painted over.
The artwork, at the University of Southampton, shows a degree being given to an unknown soldier.
Union president Emily Dawes faced a backlash online after saying the "mural of white men" would be taken down or daubed over.
She has since apologised for "the offence and upset" caused by her original message.
The university said it was "very proud" to display the mural, "which serves as a memorial to all members of British universities" who served in World War One.
Read full article Mural should be painted over, Southampton student union president says