Two-metre distancing may be eased for work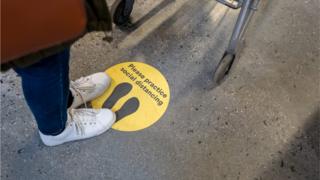 Employers will not be required to maintain social distancing of two metres between workers under government proposals to reopen the UK's workplaces.
In one of the draft government strategy papers, seen by the BBC, employers are encouraged to do so where possible but where it's not, additional measures should be considered, it suggests.
These should include additional hygiene procedures, physical screens and the use of protective equipment.
However, the section of the documents marked PPE is currently empty, apart from a promise that "more detail" will follow.
Union leaders have expressed concerns, saying few firms currently have this equipment and efforts to acquire it could see them competing with the NHS for scarce and essential supplies.
Worker safety
Read full article Two-metre distancing may be eased for work