On the frontline of India's WhatsApp fake news war
20 August 2018

From the section

India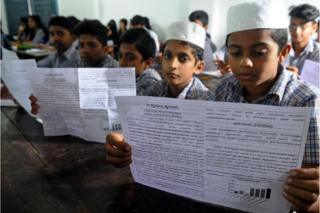 Mobs have lynched at least 25 people across India after reading false rumours spread on WhatsApp. Now the authorities in one Indian state are fighting back - by teaching children about fake news. Soutik Biswas reports.
In a state-run secondary school in the sticky coastal city of Kannur in the southern state of Kerala, some 40 students have thronged a classroom for an unusual lesson.
As the uniformed boys and girls in separate rows slide into their seats, there's a question on the projection screen for them to answer: What is fake news?
Students read the answer aloud from another slide.
"Fake news is completely false information, photos or videos, intentionally created and spread, to confuse the public, spread mass panic, provoke violence and get attention."
Read full article On the frontline of India's WhatsApp fake news war