India coronavirus: How Kerala's Covid 'success story' came undone
21 July 2020

From the section

India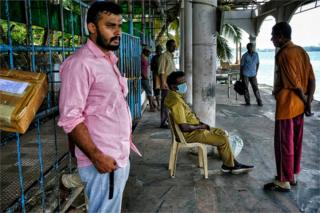 There's anxiety and confusion among people living in a bustling coastal village in India's southern state of Kerala these days.
The 4,000-odd families of Poonthura, a hamlet of fishermen next door to the capital city of Trivandrum, have been served with strict stay-at-home orders. Nobody can enter or leave the place. Businesses are shut and transport suspended. Commandos and policemen have patrolled the streets to enforce a stringent lockdown.
Earlier this month, more than 100 people in Poonthura's densely packed villages hugging the Arabian Sea contracted Covid-19 after some of them visited a fish market. This contributed to a sharp spike in infections in a state which, in May, appeared to have tamed the virus.
"People are confused, isolated and tense," Father Bebinson, the vicar of the local church, told me. "They can't make out what has suddenly hit them."
He's right. Barely two months ago, Kerala was looking like a striking outlier in the battle against coronavirus in India. But cases have surged in the last few weeks, and the state government is now saying the virus is locally transmitting through coastal communities, the first such admission by officials in any state since the beginning of the pandemic in India.
Read full article India coronavirus: How Kerala's Covid 'success story' came undone