The horror story inside an Indian children's home
11 August 2018

From the section

India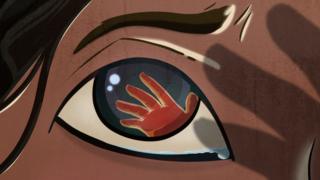 "The sun rose very slowly for us every morning," a girl rescued from a shelter home in India's Bihar state told an investigator recently. She had cupped her hands together forming a small bowl shape and smiled wanly.
Daylight bled easily into dusk outside, but inside the dank, windowless home, the nights seemed to be without end.
Unknown visitors, she said, would often appear in the dark and sexually assault her.
She was one of 44 girls aged between seven and 17 who lived in a three-storey house in a fetid lane in Muzaffarpur, a grubby town better known for cheap clothes, lacquered bangles and organised crime. They were orphans, runaways, trafficked and the destitute from one of India's poorest states, where 46% of the population is below 17 years of age.
On the afternoon of 30 May, officials arrived at the house and asked the girls to leave. They marched silently into police vans, which drove them to three other homes elsewhere.
Read full article The horror story inside an Indian children's home