'There is no water. Why should people stay here?'
10 June 2019

From the section

India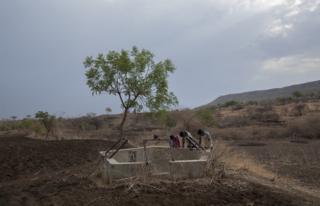 Every morning Dagadu Beldar, 75, wakes up and cooks rice and lentils in his village home in India's western state of Maharashtra. After that, there's little else to do.
For the past three years, Mr Beldar has lived alone in his gloomy one-room hut in Hatkarwadi, a stony hillside outback ringed by forests. Drought forced his wife and three sons out of the village. The earth was parched and the wells were dry. There was little water to drink and bathe in, and the family's millet farm lay barren.
Two sons found work at a sugar factory in Sangli, a cane-growing district some 400km (248 miles) away. Their mother looked after the third son, who went to school there. Hatkarwadi had become a bad memory.
With age, Mr Beldare is going deaf. He mostly keeps to himself in his dark room.
"He's a very lonely man. He hasn't seen his family in three years. All because of water," says Ganesh Sadgar, a neighbour.
Read full article 'There is no water. Why should people stay here?'