Air pollution: How bad is your commute?
25 June 2019

From the section

London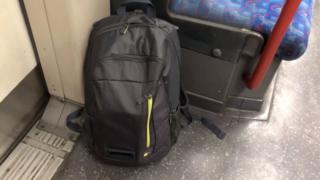 A school in south-east London is trialling out backpacks that measure pollution to see how bad it is, so I decided to wear one for two weeks to see how much pollution I was exposed to while working across central London.
I wore a Dyson pollution backpack on the Tube, trains, car and buses while working across central London. I usually try and avoid polluted streets but sometimes I can't avoid them.
The backpack measures tiny little particles called PM2.5 and the gas Nitrogen Dioxide (NO2), which experts think contribute to heart disease, cancer, asthma and strokes.
I have to say the results did shock me.
Tube pollution
The backpack measured a lot of pollution on busy roads but even popping out of my office to buy a sandwich saw the pollution levels spike above recommended levels.