Will Gompertz reviews Beverley Knight's socially distanced London Palladium show ★★★☆☆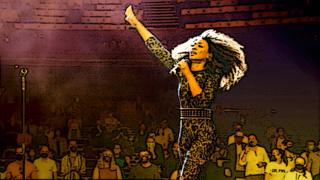 On 29 January 2020, I went to the London Palladium to see Madonna perform her Madame X show. She made the 2,297-seat theatre feel as intimate as a downtown cabaret club. She came down into the audience, sat next to fans, had a chat, swigged beer from their plastic bottles. It was all very cosy.
On Thursday, I was back at the Palladium to watch Beverley Knight and her band perform. What a difference six months make.
The shows were polar opposites. Bev was pitch-perfect, Madonna was not. Bev moved around the stage with dynamism and grace, an injured Madonna hobbled. Bev's banter had everyone cheering, Madonna's left us feeling a bit awkward.
But…
Madonna's show was better. Not because she was better, she wasn't, but because we, the audience, were better. That's nobody's fault. It's down to the wretched virus and the associated social distancing rules.
Read full article Will Gompertz reviews Beverley Knight's socially distanced London Palladium show ★★★☆☆