Catch-22: Will Gompertz reviews George Clooney's Channel 4 drama ★★★☆☆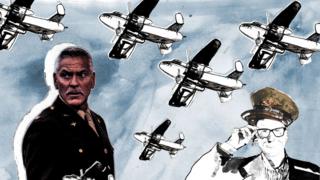 Some things in life are difficult. Like attempting to learn the drums in your '50s, or, consequently, having to readjust to new neighbours. And there are some things in life that are really difficult, like ordering food in an unfamiliar language and then trying to persuade your 10-year-old child to eat boiled goat's testicles in a restaurant without making a fuss.
But there are some things in life considered so difficult that conventional wisdom deems them nigh on impossible. Such as walking on air, or transferring Joseph Heller's 1961 classic novel Catch-22 from page to screen.
Mike Nichol proved the sages right with his unconvincing 1970 film adaptation, but that was before today's golden age of slow-burn television where there is both the time and the money available to tell the fragmented, intricate story of an American Air squadron based on an island off the west coast of Italy during World War Two.
The good news for the production's backers was the multi-talented George Clooney was willing to help take the strain as a performer, a producer and a director of this Channel 4/Hulu six-part television adaptation by scriptwriters Luke Davies and David Michôd.
Clooney plays General Scheisskopf, a cartoon character of a part, which sees the Oscar-winning actor hamming it up as the cliched all-shouting, all-sneering parade ground bully who yells at those under his command for being a "bunch of pansies" etc.
Read full article Catch-22: Will Gompertz reviews George Clooney's Channel 4 drama ★★★☆☆