Colombia conflict victim urges 'no' voters to forgive Farc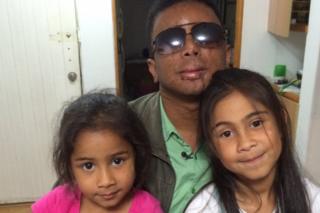 If anyone has the right to feel angry and not to forgive, it is Edgar Bermudez.
At the height of the conflict between the Colombian government and left-wing Farc guerrillas, Mr Bermudez - then a 26-year-old policeman - was on patrol in a rural area in the south of the country when he stepped on a land mine.
The explosion left him completely blind and with terrible facial injuries.
Eleven years and dozens of medical procedures later, Mr Bermudez is no longer angry with the guerrillas who probably laid the mine that maimed him but he is frustrated with a deeply divided society, which he says has missed a chance to move on and pursue a lasting peace.
"If I and all the other victims of violence can find the strength to forgive and to compromise then those people, sitting behind their desks in the cities, who have not suffered in the same way can surely do the same," Mr Bermudez tells me in his modest Bogota home.
Read full article Colombia conflict victim urges 'no' voters to forgive Farc