'Too pretty to be in a wheelchair'
By Lucy Townsend
BBC News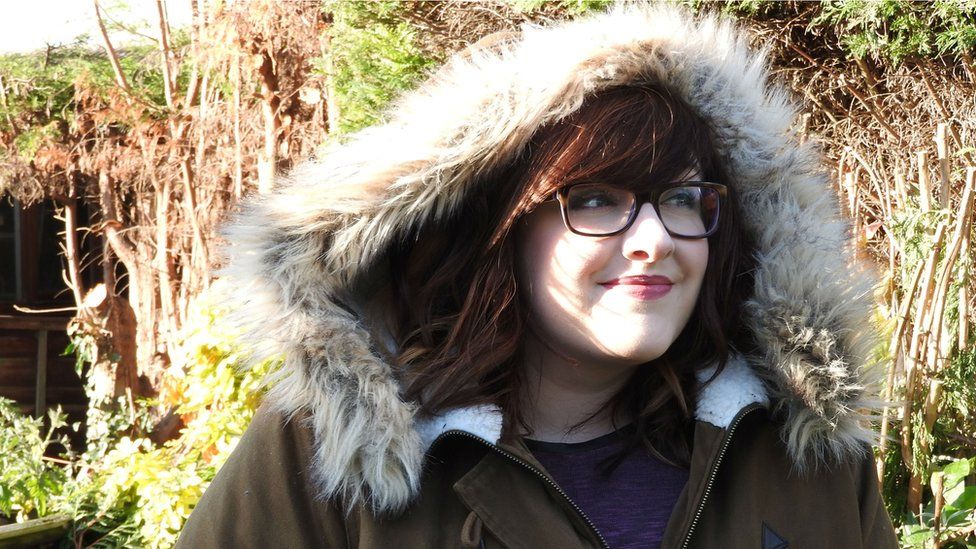 Beauty blogger Sarah Wilson was told by a stranger that she was "too pretty to be in a wheelchair". She wrote about it on her website, inspiring a number of people to get in touch. Here five disabled beauty writers explain what fashion and make-up mean to them.
"I feel like people look at me when I'm out and think 'why have you even bothered'", says the 28-year-old. "I think that's maybe my imagination but it's often how I feel. For me make-up is like my armour. I put it on because I love it. I'm a woman first and foremost, my disability comes second to that."
Sarah is a beauty and lifestyle blogger who set up her website Sarah In Wonderland in May. She has Ehlers-Danlos syndrome (EDS), which can lead to chronic pain and fatigue, and often uses a wheelchair or crutches.
She was shopping at a make-up counter when the stranger mentioned her looks. "She said it like it was a compliment and then walked away. Generally I have answers ready for most comments but I had nothing for this one. It was later on that I started to feel really angry," she says.
"My make-up is not a mask, I'm not hiding from anything. It's a strange circle because I want to look my best but equally I want people to know that there's something wrong with me. The blog post really spiralled, It got more comments than anything else I've ever written which made me feel quite comforted, it's reassuring to know that people feel the same."
Jordan has over 165,500 subscribers to her YouTube channel and 117,000 followers on Instagram. She reviews beauty products and creates video make-up tutorials. Paralysed from the chest down after a car crash in 2005, the 26-year-old posted a video earlier this year explaining how she had taught herself to apply her make-up following the accident. It went viral.
"I hadn't discussed it on my blog before then. That was a really vulnerable video to make but it felt really important," she says.
"Make-up is art to me, it can make you feel really confident, and you can be whoever you want to be. It's not a mask, it's there to enhance."
Jordan is unable to open and close her hands, and uses her mouth to help manipulate her brushes. She had to completely re-train herself to apply make-up following the accident. "It took about a year. I would be sat at the nurses' station in hospital trying to learn how to use my hands again but just lifting my arms up to my face to put mascara on was difficult. It was such a long process and I feel really proud that I got there.
"My blog is about make-up but it's not just about make-up - it's about positivity, and showing people that they can achieve whatever they want."
After losing her sight two years ago because of a rare genetic condition Lucy Edwards also had to re-learn the art of make-up. "I can do pretty much everything myself now - except false eyelashes, which I'm working on," she says. "I've always loved make-up and I didn't want to give that up because of blindness."
But since starting her YouTube channel, which now has nearly 23,000 subscribers, make-up has become about much more than looking good.
"Now I can't see myself in the mirror, make-up is a way for me to control how I look. I know exactly how I look because I've created it. That's very empowering."
She adds that reaction to her videos has been surprising. "People tell me their personal stories and I really like that, I feel like I'm changing the world on this very small scale."
"Fashion has always been a means of self expression since it is both transformative and therapeutic," says Magda, who calls herself the Pretty Cripple. "I consider the choosing of an outfit a creative endeavour and derive great joy from coordinating colours, patterns, accessories and other accoutrements."
Magda, from New York, has paraplegia. She is an artist and graphic designer and describes fashion as one of her greatest loves. She generally finishes every outfit with a hat.
"My philosophy is that no matter the circumstance, one should always strive to look their best. I have even given strict instructions on what I will be wearing when I'm buried."
Tania Dutton was an oboe player before her disability forced her to give it up. Like Sarah, she has EDS, and she now is unable to even hold the instrument. "Make-up became my creative outlook, I was able to express myself in a way that I used to be able to with my music," she says.
"It is also a really good way to hide how I'm feeling - if you put on make-up then people assume you must be feeling ok, even if you're actually feeling terrible. There are certain members of my family who I will never see without my make-up on because I don't want them to worry about me. Of course there's a flipside, which is that people think you're feeling ok when you're not."
Changes to her drug regime have caused Tania's weight to fluctuate and affect her skin. "I put on three stone while taking one medication, which made me go off fashion for a bit and that's when I got much more interested in make-up."