Six ways to deal with cake culture at work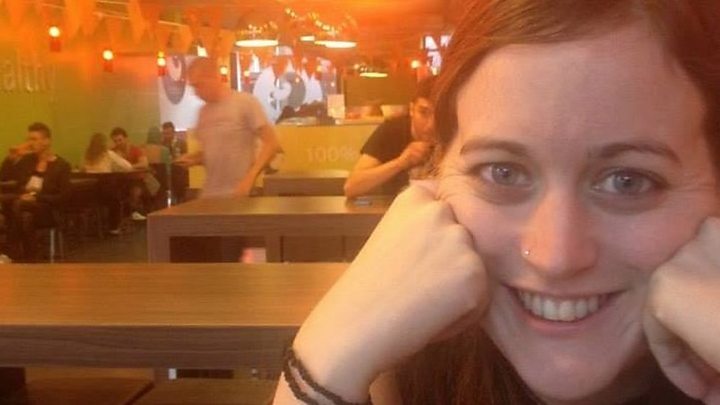 The Food Altar, the Treat Table, ITUP (In The Usual Place) - call it what you will, sweets and treats have become an engrained part of office life - but what if you have anxieties around food?
Eleanor Bowes has had the eating disorder bulimia and says although she's in recovery she'll "never have a normal relationship with food".
"When I'm dealing with stuff in my personal life, my problems often flare up again. And at those times, when I'm struggling, I find work a hard place to be."
According to the NHS one in 20 people show signs of an eating disorder so the 30-year-old from Portsmouth and her colleagues at Mind came up with six pointers about how to deal with food and the workplace.
Don't organise social activities solely based around food, drink or exercise
Events like this can be really overwhelming. It may be that being around food and physical activity will trigger behaviours they are trying to avoid, or that seeing others enjoying themselves eating, or playing strenuous games, might make them feel like their recovery will never be possible.
One colleague told me: "I definitely found myself avoiding after work drinks all last year - and felt super anti-social and like I missed out on getting close to colleagues - but I just couldn't handle it!
"I also think it would be really helpful to suggest that if a team is going out for lunch, it's decided as far in advance as possible where to go - and to go somewhere with plenty of choice."
It is unavoidable that these sort of events happen, so try to be understanding if your colleague excuses themselves or leaves early. Don't try and pressure them into attending and maybe once in a while organise a different activity, such as mini-golf.
Don't comment on food choices
You might think you're just making conversation while you wait in the queue for the canteen or microwave, but you have no idea how difficult it may have been for your colleague to put their meal together.
They might finally feel they've got it just right and then you say something like, "Is that all you're having?" and their meal, and possibly day, is ruined.
Ditto exercise
Lots of people's problems with food, diet, weight and body shape overlap with some mixed up feelings about exercise.
So maybe hold off evaluating someone's gym record too, yeah?
Be mindful of bringing treats into the office
This is tricky to avoid. It's part of our culture to celebrate with cake and to show our colleagues how much we appreciate them by buying biscuits.
Some of my best work has definitely been fuelled by waves of sugar-induced energy, but anyone whose world revolves around food is going to find it really difficult to focus on anything other than the big plate of cake sat in front of them.
Perhaps if you're buying a packet of biscuits, because you've got a tough afternoon ahead, you could keep them on your desk or somewhere out of of the way so people don't have to walk past them to get on with their day.
If you're expressing gratitude through food, why not cut out the middle man and actually say how you feel.
Try to avoid diet-chat or body shaming around the office
In a world of the 5:2 diet, Fitbits and the Side Bar of Shame, you really can't blame anyone for feeling they should be on a constant upward fitness trajectory.
When it's everywhere you look, it can feel like everyone agrees and feels comfortable with the status quo.
But by evaluating everything you do and comparing your appearance to others out loud, you are inviting those who hear you to do the same to you, and therefore to themselves.
Which leads me to my final point.
Acknowledge that 'healthy' means different things for different people
You might hold up an ideal of eating salad every day and always taking the stairs as your ultimate goal. But for others, fighting thoughts of restricting their diet or losing pounds through exercise might be the goal they are trying to achieve.
Taking the lift, or having crisps for lunch, might be a big step in letting go of the strict rules they have been living by and might actually be the "healthiest" thing they have done for a while.
Don't always say things are "good" or "naughty" when you talk about food, it isn't always helpful.
Eleanor Bowes originally wrote the article for Mind. Produced by Beth Rose for the BBC.
For more Disability News, follow BBC Ouch on Twitter and Facebook, and subscribe to the weekly podcast.