'The uniform and the rules attract autistic people to join the police'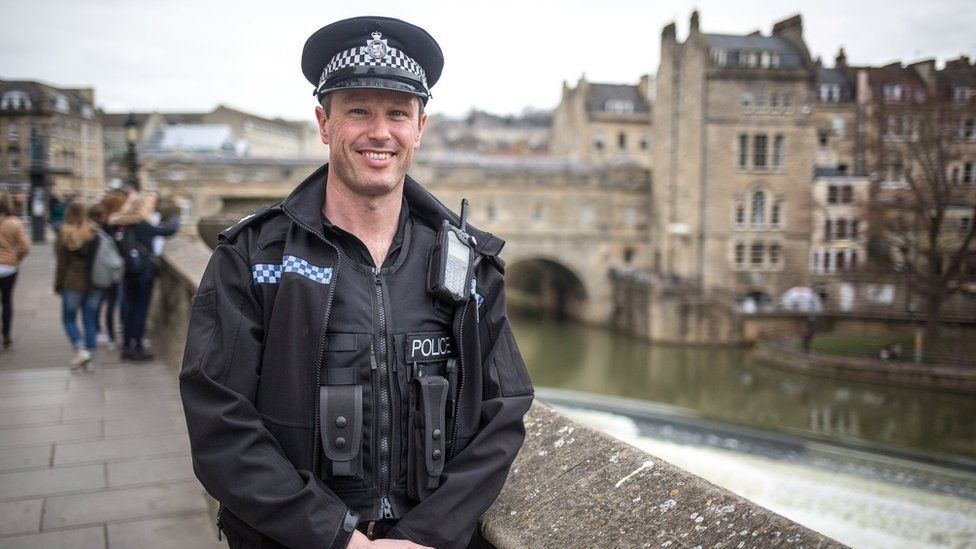 As World Autism Awareness week draws to a close, Daniel Gordon speaks to serving autistic police officers. How does autism affect their work?
Sergeant Adam O'Loughlin is troubled by what he sees as he drives along the well-kept streets of the genteel city of Bath.
"I don't particularly like driving down this road, because I notice everything," he says.
We're travelling along one of the main roads heading out of the centre, when in front of us, a vehicle comes to a stop on the edge of a yellow box junction.
It is the third minor traffic infringement he has spotted within the first mile or two of the journey.
A minute or so earlier, another car had failed to indicate correctly. Before that, one appeared to drive just over the speed limit.
Sergeant O'Loughlin is visibly frustrated.
"I'm wearing a uniform, I'm in a police car, why do these people think it's OK to break the law in front of me?" he exclaims.
He says his instinct is to see the law as "black and white" - and to make sure it is obeyed to the very letter.
But 17 years of police service have taught him to take a broader view.
"When I first started, I'd stop people for these kind of things all the time, and whoever was crewed with me would get grumpy," he laughs.
"Even now, colleagues joke about all this stuff around me affecting me when it doesn't need to. I get really exercised about it.
"Every single day, I have to tell myself to let stuff like that go. I just have to breathe and not think about it."
There is more to this story than a policeman who has mellowed over time, though.
Two years ago, at the age of 39, Sergeant O'Loughlin was diagnosed as being on the autism spectrum. Now he knows to check for thoughts that might come from that part of his personality and to compensate for them.
The traffic slows and a motorcyclist pulls up alongside his patrol car. The man riding it reports seeing a lorry driver use their mobile phone while at the wheel.
Sergeant O'Loughlin gets out to investigate and finds himself in a dilemma.
The driver in question denies being on the phone, and without consulting his mobile provider, there is no proof. The man drives for a living, so the stakes are high.
"This is a perfect example of something that I find really difficult," says the Sergeant.
"My natural inclination was to give him a ticket. But I have to remind myself that it's not black and white. He could lose his job for that, and I haven't got any evidence.
"Do we all do things that might not be strictly legal at the time? Probably."
Getting diagnosed and going public about the fact he is on the autistic spectrum has been a revolution, Sergeant O'Loughlin says.
As well as now being able to factor autism into his reasoning, he also feels less pressure to pretend to be like everybody else to try to fit in.
"Telling people I have autism was the best thing I ever did," he says, as we call past Bath's central police station.
"Pretending to be like you guys is exhausting. You have to keep it up all the time or you're not going to get anywhere. Now I don't feel the need to pretend to be someone else."
He has also recently been promoted to a position where he spends more time at his desk and less out on the beat.
"I've found myself in a job that very much fits with what I'm good at, based on my own peculiarities," he says.
As a result, he feels more relaxed and able to focus on the things he excels at.
"I can concentrate for extended periods of time," he says. "And I can find intel on our computer system much quicker than anyone else can. My mind works in a way that helps me drag that information out. And we try to find where burglary hotspots are - I find that really easy as well."
He is also quite happy to deal with the bureaucracy that eats up ever more police time. Filling in forms drives others to distraction, he says, but not him.
Sergeant O'Loughlin's superiors have been perfectly willing to make adjustments to accommodate his needs.
But even without those, he says the job has plenty to offer.
"Law enforcement attracts people who are on the spectrum," he says. "They like the uniform - you get to wear the same thing every day. And you get to enforce the rules."
It is hard to gauge how many serving officers in the UK are on the autistic spectrum. The National Police Chiefs Council doesn't record such statistics.
If it is anything to go by, the National Police Autism Association - which Adam O'Loughlin belongs to - has just over 700 members.
Not all of them are autistic, though.
The organisation's vice chair, Claire Masterton - who is autistic - says the reason many staff join the organisation is because they have dependents who are on the spectrum.
Sergeant O'Loughlin is convinced that within his force at least, autistic people are well represented.
"The police in Avon and Somerset have been trying to make sure we reflect the population in terms of visible minorities. In terms of things like ethnicity, we are struggling. But when it comes to autism, we're already there without even trying," he says.
Fifty-two-year-old Nigel Colston is a senior officer in the same force.
He is Chief Inspector of Neighbourhood Policing at Portishead, around an hour's drive from Bath, on the western edge of Avon and Somerset.
He'd served more than 20 years as a police officer before he, too, was formally diagnosed with autism eight years ago.
It happened at the time his teenage son was going through the same thing.
"A lot of the things that were said about his inability to socialise and to have social contact were very similar to me. So I said to my son's consultant, 'I think I might be autistic,'" he recalls.
He says he sought a formal diagnosis for his son's sake.
"I wanted to be able to say to James, 'You're not alone."
He had previously had trouble coping at work with issues that, with the benefit of hindsight, he recognises as stemming from his autism.
It was now understood that he has sensory processing disorder, which had been making things like the ticking clocks hanging on walls around the police station hard for him to cope with.
They were removed, and he was also given his own office to provide respite from the noise that disturbed him in what is otherwise an open-plan building.
Chief Inspector Colston is keen to explain what he brings to policing.
"I'm good at going into difficult situations where emotions are running high," he says. "I can go in and look at cold facts. And I have self-confidence - I always know the right thing to do."
Back on the streets of Bath, Sergeant O'Loughlin demonstrates his own professionalism.
He dislikes walking through the throngs of chattering tourists in the picturesque city centre - but it's nothing he can't handle.
"I live with a level of discomfort every day," he says.
As he prepares to head back to the police station at the end of the day, he's approached by a member of the public who can't find his girlfriend, and wants to report her as missing.
Sergeant O'Loughlin admits to feeling frustrated that his plans have to change as he's now been confronted with something unexpected.
"It's the nature of the job," he says.
"I've dealt with missing people before and I know that there's a series of things that have to be done which is almost like a list, so I just fall back to that," Sergeant O'Loughlin explains afterwards.
"Had it been a completely new situation, I probably would have flapped a bit."
He adds a note of self-criticism, though.
"You will have noted however that not once did I ask him if he was OK."
And while he might feel self-conscious about his people skills, Sergeant O'Loughlin is in no doubt about his ability to carry out his work.
"I can do this job as well as anyone else. I've been successful and that's because I have autism, not in spite of it. And if I've done it, other people can too."