'No dogs allowed, but what about my assistance dog?'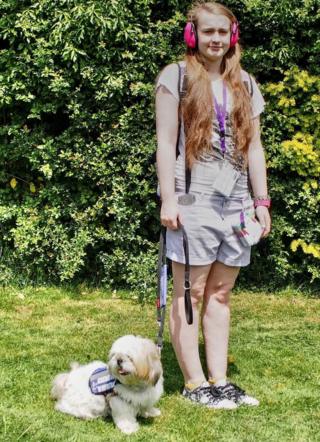 Abby Cappleman studies computing at college in Wellington, in Shropshire. She also has Asperger's syndrome, a form of autism. And thanks to her assistance dog, Chloe, she has the confidence to lead an independent life outside her home.
"She's very tolerant of my emotional meltdowns," Abby told the BBC.
"Chloe sits with me and licks me. She is perfect for me."
Most companies only allow guide dogs on their premises, so 18-year-old Abby has been trying to raise awareness about people who rely on assistance dogs. She has set up a petition to get the government to make it a legal requirement for service providers to display a sticker which welcomes all assistance dogs.
She has also created a Facebook account called Chloe the Assistance Dog where she posts their experiences:
According to the charity organisation Assistance Dogs UK, more than 7,000 disabled people in the UK rely on an assistance dog to help with practical tasks as well as offering emotional support and independence.
Abby has made a video to demonstrate the things her assistance dog can do for her.
She has also filmed some of the less positive encounters she's had while out with her dog.
These included one in May when, moments after Abby and Chloe entered a shop in Shrewsbury, they were asked to leave, due to a "No dogs allowed" policy.
Although Abby explained that Chloe was her assistance dog and that it was her legal right to be there, the shop manager insisted they leave.
For most people, being asked to leave a shop would not be a good experience, but it would be amplified for someone with autism.
The police were called and an officer, who has two autistic daughters herself, arrived on the scene.
"It was very stressful," Abby explained, "but the policewoman helped calm me down. She was fantastic. She went above and beyond."
Police community support officer (PCSO), Maria Chattington-Lowe,informed the shopkeeper he was breaking the law and that people like Abby are not obliged to disclose their condition:
"Every shopkeeper has to make reasonable adjustments," said PCSO Maria.
"Even a school or college has to allow them. My daughters have the same condition, they don't like to be touched. Even I wouldn't touch her; it's invading her personal space."
She went on to describe the importance of Chloe to Abby's wellbeing:
"Her dog gives her that comfort of not being alone, and helps with physical tasks. It's like a befriending system. A little bit like a guide dog.
"Young people often can have physical meltdowns when they're in certain environments. Even lighting can affect them - they go hazy and start to have panic attacks. The dog can pick up on that."
Since having the law explained to him, the shop manager told the BBC he had looked up the Equality Act 2010 and regretted how he had spoken to Abby:
"As soon as she went, I read up about it and I was sorry for what I said to her," he said. "It's been a learning experience for me."
This wasn't the first time Abby had been treated in this way, and she hopes her petition will help her mission to promote an understanding of assistance dogs:
"I did not want to target the shop, but to spread awareness. This is something that people like me are subjected to, but not everyone is as stubborn as I am!
"At least if anyone else with an assistance dog goes into his shop, he'll know to let them in next time."
Interviewed and produced by Sherie Ryder, BBC UGC and Social News