Pimped-up and ready to go
By Daniel Gordon
BBC Ouch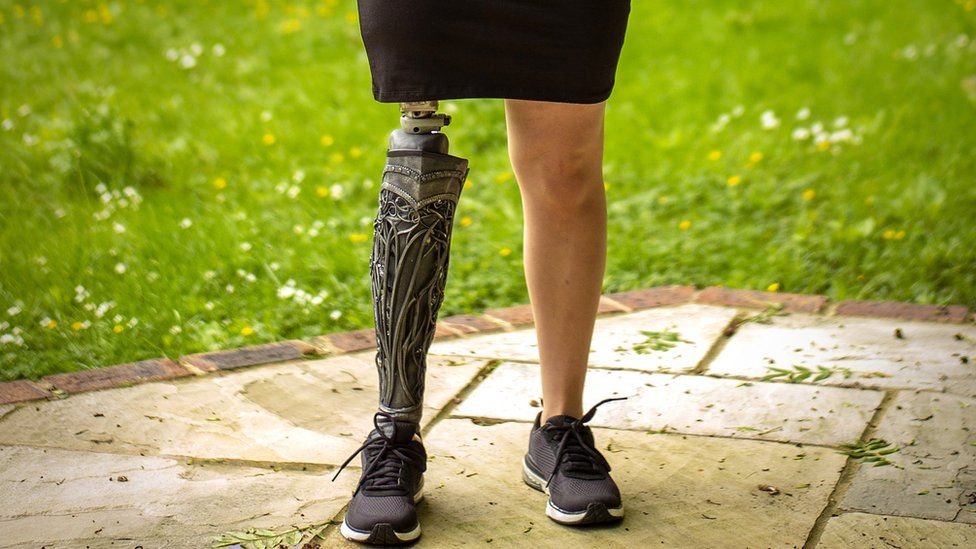 Just because something is practical doesn't mean it has to be unfashionable.
See how seven disabled people have "pimped up" the equipment they use every day.
Viktorija Radvila's custom-made prosthetic leg cover is adorned with sculpted dragons and crystal beads. She describes it as a "Sunday best" item.
"I put this on instead of a necklace or rings if I'm going out and I want to look smart," the 34-year-old Lithuanian, who now lives near London, says. "I don't wear it round the house because my dogs might chew it."
The cover was printed using 3D technology and is attached to her prosthetic limb with magnets.
Viktorija says it is an improvement on the artificial leg she was given by the NHS after she lost her right leg in a motorbike accident in 2010.
"That one was bulky and ugly. It felt like I was wearing someone else's leg, it made me feel sick," she says.
The designer, who made the dragon cover, matched the shape and size of her remaining leg. "It feels very heavy, so it feels like my natural leg," Viktorija says.
She won't say how much she paid for the cover, but admits it was expensive.
"I don't regret buying it, though it can be annoying when I'm in a hurry and people stop me because they want to tell me how cool they think it is."
Tilly Lockey was excited when she was picked to try out a new pair of 3D-printed bionic arms.
"I can do different grips with them. I can hold my Wii remote control and play Just Dance. With my old ones I used to have to tape the remote on with Sellotape," the 12-year-old from County Durham says.
The arms feature interchangeable covers in different colours and designs.
"In the past, I've always had realistic ones, but I didn't want to just blend in anymore. These ones had cool hero designs on."
Tilly's arms were amputated after she contracted meningitis as a toddler. In the past she's felt self-conscious, especially when she's not been wearing her prosthetics. But not anymore.
"With these arms I just want to show them, I feel so much more confident."
Izzy Keane, 21, from Galway, Ireland, has spina bifida and has always used a wheelchair.
As a child Izzy, and her sister Ailbhe, would brighten up her wheelchair with flowers and ribbons.
"Wheelchairs look like lumps of metal that are manufactured in a hospital," she says. "To a wheelchair user, it's so much more than that. I always just wanted to show it off."
Ailbhe came up with a series of designs for wheel covers as part of a school project and, in 2016, she and Izzy went into business selling them commercially.
Each set of covers costs about £120 which, Izzy acknowledges, puts them beyond the reach of some disabled people who are unable to work or rely on benefits, but she doesn't consider them to be overly-extravagant.
"It's the equivalent to a nice pair of shoes or a handbag," she says. "I change them as often as I change my clothes."
Izzy says the covers serve another function - they're great conversation-starters for those who are unsure how, or whether, to approach wheelchair-users.
"Without verbalising that dilemma, I want to show people they can ask whatever questions they want."
For a brief moment, Sam Obigbesan is unsure what colour his cane is.
"It is a bright, shiny, metallic blue right?" he checks. "That's what I ordered. Even if somebody fooled me and sold me a white one, to me it's blue."
Sam, 27, lost his sight at the age of 12 due to a degenerative condition.
He bought a blue cane from the Royal National Institute for the Blind (RNIB) because, he says, "I remember what blue looked like, and it was one of my favourite colours".
He says: "For me, even though I can't see it, it's about the concepts you associate with being blue, like being calm, water and the sea."
Kelsey Dickman, who's 28 and a mature student from Liverpool, tells a similar story.
"I have a memory of colour, colours are nice and white's not a colour," she says.
"I was always quite intimidated by white canes, I found them quite stereotypical."
Kelsey bought herself a pink cane, and when that wore out, she ordered a purple one, although she often uses her white one now too.
The RNIB sells canes in 10 different colours including red and gold, although some people believe the cane should remain white as it is a widely understood symbol.
But Sam's mystified by the debate.
"People bumped into me when I had a white cane anyway. If anything, having a coloured cane makes me stand out more."
Kirsty Allen remembers the moment her 10-year-old son Zach, began to hear through his cochlear implants two years ago.
"It was absolutely amazing, but also heartbreaking, to realise what he couldn't hear before," she recalls. "Suddenly you realise 'gosh, you've never heard water dripping, you've never heard rustling leaves'."
Cochlear implants turn sound into electrical signals which are sent to the cochlea, which is part of the inner ear. From there, the signals travel to the brain and are heard as sound.
A few months after his operation, Zach asked his mum to brighten up the implants because, he says, "I like to be cool and fancy".
Kirsty turned to a Facebook group called Pimp My Hearing Aids for help. Its 6,000 members share advice on where to buy decorations, as well as how to make them.
Zach's specifications were precise: "There are three things I like - dragons, trains and dinosaurs."
Then he looks across at his hearing dog, Echo, and adds "and dogs".
Kirsty bought two pairs of implant covers but has made the rest herself "Blue Peter-style", with scissors and nail stickers. The patterns have included paw prints, bones, Union Jacks and Christmas decorations.
Carrie Webster is a part-time writer with cerebral palsy.
"I always used to have NHS crutches and even though I was always grateful to be given them for free, they looked like two pieces of soulless metal that didn't reflect my personality.
"But when you have a disability and need to use equipment to enable you, it becomes a part of your identity," she says.
"Many of the crutches in my collection have been personalised with my own designs.
"And let's be honest - if you use mobility equipment, it is the first thing people notice about you. So why not make a statement?"
Related Internet Links
The BBC is not responsible for the content of external sites.