The British teen who won wheelchair slalom at the 1964 Tokyo Paralympic Games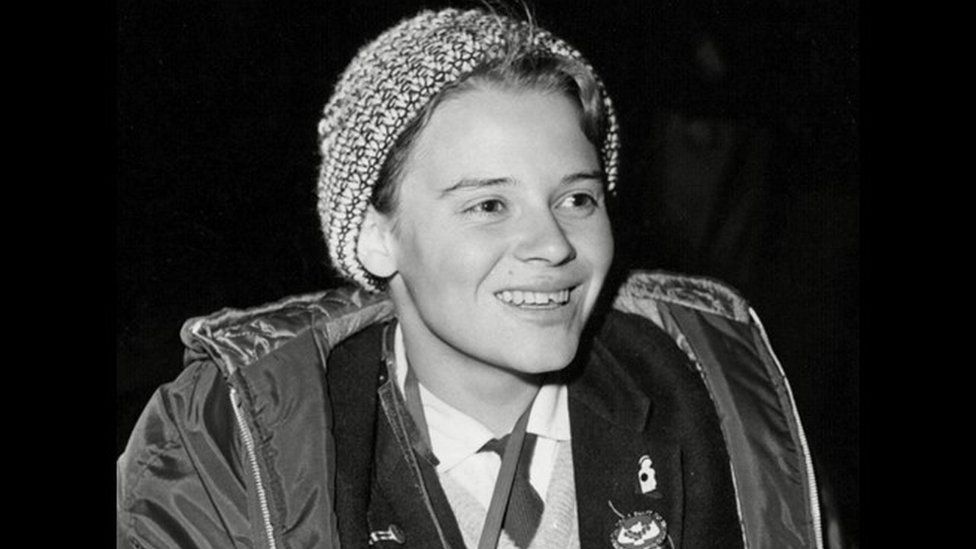 This year is not the first time Tokyo has played host to the Paralympic Games - the first time was in 1964. Back then, British teenager, Caz Walton, became a success story winning three golds in two sports. Fifty-seven years on she's out in Tokyo once more as one of ParaGB's support staff.
"It was very exciting," Caz says, looking back on 1964. "Especially as I hadn't expected to go."
Caz had been 17-years-old and looking forward to bonfire night when she got a "last minute selection call" to replace an athlete at the Games, which were then held in November.
The athlete had withdrawn due to sickness, but the opportunity for Caz would shape her life.
"With about three weeks to go I got catapulted in. I arrived in Tokyo, not even sure which sports I was doing," she says.
Caz, a wheelchair-user, had taken up sport aged 14 on the advice of her physiotherapists, and tried everything from swimming to fencing, regularly attending training sessions and competing in the UK with other para-athletes.
In the 60s you needed to excel at multiple sports to get noticed and make the British team.
"Because there was no money in the sport we couldn't afford to be specialists, so in order to get selected you had to do three, four, maybe even five different sports."
With her parents in agreement, the teenager took the then 23-hour flight to Tokyo.
"It seemed that we took days to get there," Caz says. "We flew to Prestwick in Scotland, and then we flew over the pole, stopped in Anchorage, Alaska, and then on to Tokyo."
It would have taken this year's team half that time to reach the Japanese capital.
For Caz, the opening ceremony for Paralympic Tokyo 1964, as it was then known, made the long journey worthwhile and was held in front of 5,000 spectators.
"We had a reasonable crowd, which was nice and a novelty for us," she says. Although Caz is still unsure whether they came for the 387 para-athletes from 21 countries or to get a glimpse of Japan's Crown Prince Akihito and his wife the Crown Princess, Michiko.
"It really makes me feel old when I remember how handsome he was, how beautiful she was."
The uniform ParaGB wore for the ceremony was bottle green and taken from the flag of The Stoke Mandeville Games, the home of the Paralympic Games.
The team wore trousers or a skirt, a blazer, blouse and a tie which Caz says "I hated with a vengeance".
"We had to give the blazer back at the end of the Games and we also had tracksuits which you had to buy yourself."
Ceremony over, the events, all 144 of them, got under way.
"Some I'd never done before - I picked up a discus and wasn't quite sure how to throw it and then there was table tennis, another sport that I'd only done a couple of times."
She came into her own in the wheelchair slalom, even if her chair was cumbersome by today's standards.
The event is no longer in the Games. Caz describes it as: "Like a skiing event, but on dry land. There are steps and ramps to negotiate as part of the course. You needed agility as well as speed and it's visually quite exciting."
She had the time of her life and won gold for Great Britain.
It wasn't her only medal. She ended these, her debut Games, with golds in the wheelchair dash and swimming too, and it proved a great personal boost for her.
"It gave me a feeling of self-worth and confidence, but also it was a great social integrator, as it still is today."
Like the 2020 cohort, the athletes didn't get to explore Tokyo, but in 1964 it wasn't due to a pandemic, it was all down to poor accessibility. To get to Japan, the wheelchair-users had to be carried onto the planes.
"It might sound somewhat silly, but we were used to things not being accessible, it was just the way it was," Caz says.
"It was years before we had another Games that even came close to being as good."
Caz's lasting memory, she says, is "how hard the Japanese tried to make it a good games, how friendly they were, how hospitable".
For Japan, the 1964 Games came with the hope it would be the springboard needed to improve disability welfare, something it continues to work on.
Mark Bookman, a disability historian based in Tokyo, says that after World War Two, Japan's industrialisation had "resulted in a sharp spike in disability rates" and the nation needed to work out how to support its citizens.
"The construction of skyscrapers and subway stations replete with stairs and other obstacles created hardships for impaired individuals. Accordingly, many lost access to education, employment, and medical care."
This made the Japanese government nervous about advertising the Paralympics before the Games began for fear it "might showcase Japan's floundering welfare system" on an international stage, Mark says.
Instead, they left it to grassroots disability organisations and companies. The results were chaotic and two days before the opening they hadn't raised the necessary money and didn't have enough medals.
But the organisers and their desire to make it a triumph came through
"The Games were widely hailed as a success and generally credited with raising awareness of disability in Japan," Mark says.
Caz became a Paralympic legend as she continued to compete over the next four decades for ParaGB, winning 10 gold medals across several sports - but, in a surprising twist, it has recently come to light that she may actually have won 11.
In 1968, at the Tel Aviv Games, Caz competed in the five-event pentathlon and took home bronze.
Then, seven years ago, she was contacted by a researcher and told she had, in fact, won gold in the pentathlon. It seems that the adjudicators at the time had only added up four of her events - missing out the swimming - in the final score.
"It came as a complete surprise," she says. "The Games were not scrupulously recorded, so you just accepted what you were told."
She says a fellow Brit won, so "it didn't matter as much" and her win is yet to be officially recognised by the International Paralympic Committee.
Caz retired from competition in 1992 and was appointed an OBE. Then, "with all the luck in the world" she got a job on the administrative side of ParaGB, at the age of 45. Her first behind-the-scenes role was as team manager of wheelchair fencing.
This year, aged 74, she has travelled to Tokyo once more to work on the "front desk - dealing with queries and Covid-19 regulations" for the team.
"It's a lot easier being an athlete than an administrator," she says. "I didn't have to worry about anybody but myself."
Related Internet Links
The BBC is not responsible for the content of external sites.