College cuts 'to hit class sizes'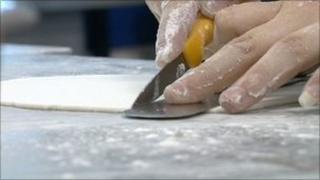 Class sizes in England's colleges could rise by as much as a third if plans for a 25% cut to their budgets go ahead, a union claims.
Analysis by the University and College Union suggests 33,844 jobs could be lost in colleges if savings are translated into job cuts.
The Chancellor has warned all government departments they face average cuts of a quarter.
College principals say staff may not feel the full weight of cuts.
But the UCU says its figures are a conservative estimate and warned the impact on an already struggling sector could be much worse.
'Dole queue'
It comes just a week after the union predicted up to 22,500 jobs could be lost from England's universities.
General secretary Sally Hunt described the cuts facing further education as a "hammer blow" to the country.
She said: "We face the alarming prospect of class sizes rocketing and thousands of teachers on the dole queue at a time when they have never been more badly needed."
"The staff who survive the cull will have far less time to spend with students and will have far heavier workloads to deal with."
She warned that the cost of educational underachievement would be a creaking benefits system, more anti-social behaviour and losses in potential career earnings and tax revenues.
'Overly bleak'
A Department for Business, Innovation and Skills spokesman said overall investment in the further education sector had increased, but there was a need for that money to go further.
"That's why we are re-focusing resources on high quality provision that responds to government priorities.
"We know this will have an impact on colleges and training organisations, and we are working with the FE sector to understand this and to work on cost effective solutions that still protect learners and courses," she added.
Association of Colleges senior policy manager Joy Mercer acknowledged that class sizes could be hit, but said cutting staff was not the only way of making savings.
She added that the AoC did not accept "overly bleak" predictions about job losses and said there were more sophisticated ways of interpreting difficult financial circumstances.
She added: "Principals will be looking for innovative ways of dealing with the funding cuts while protecting front-line teaching."