Straight As but no university place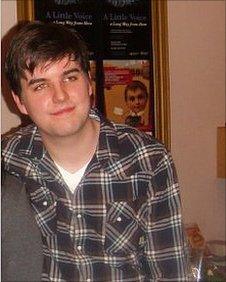 David Cashin, 19, from Manchester, has three straight As at A-level, but for the second year running has been rejected from all the universities he applied to.
Figures from the university admissions body Ucas show university applications at a record high.
Estimates suggest that some 170,000 students may, like David, be turned away this year.
With A-levels in drama and theatre studies, religious studies, and English language and literature, he wants to study English literature and hopes eventually to become a teacher or a journalist.
Last year, he was surprised when rejections came back from Sheffield, Birmingham, Bristol, Manchester and Leeds.
"I went into it a little bit cocksure. You think if you're doing well in your studies you're guaranteed a place," he said.
But then a year later, after he reworked the personal statement on his application form and added Edinburgh, Newcastle and University College London to his target list, it was even worse when he was turned down again.
"I was very disappointed. I thought am I ever going to get in? - I can't do this for the rest of my life, applying and applying and never getting in."
David has had no feedback from the universities, but thinks his first application form did not detail his interest in the course enough, while his second focused too much on the books he had read but not the drama groups and other extra curricular activities he had been involved in.
"It's hard to predict what they're looking for," he says.
He thinks now that both years, he was "a bit focused on the prestige" of the universities he chose.
"I was thinking I've got to go to a red brick or university that's considered good - I put all my eggs in one basket".
But even so, he does not think the courses available to him through the clearing process are as academic as he would like.
"I know it might make me sound a snob, but I want to go to a place I'd be happy to go to."
He intends to apply again next year - and says he now plans to choose "two high-risk options, two safe options and one in the middle".
In the meantime, David is working as an administrative assistant in the office of a national retail company, while most of his friends have already started at university.
"They've all gone and I'm just here - it's a bit miserable, but I'm quite optimistic, I'll get there eventually, I'm not bitter about it," he says.
As a state school and college pupil, David believes he had enough advice on the applications process, and could have done more research himself and attended more university open days.
But he knows the competition is tough from students from private schools.
"They're being trained for getting into university from very early on, they're all writing their personal statements in the summer."
"My college did the best they could… but at a state school there's going to be bright people and people who aren't as bright and they have to accommodate them all."
With budget cuts biting, universities are struggling to accommodate the growing numbers of applicants but David is not sure that more university places are the answer.
"It's been pushed by the government that we need to get everyone into university, but if everybody's got a university degree the job market gets crowded. I don't think a degree has the same distinction that it did 20 years ago.
"I know people who have gone to university who are still doing the same job that I've been doing - it makes you wonder what's the value of having a degree," he says.
When he was studying for his A-levels, David said he "never in a million years" imagined he would be without a university place.
"I thought I'd just go straight to university like everybody else... but I think I'll probably be better off going later. After being through what I've been through I'll probably value the experience more."