Prison education programmes face a review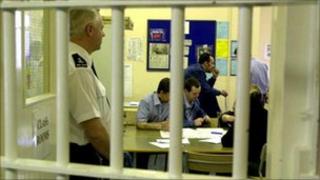 Education programmes in prisons in England are to be reviewed to ensure they offer value for money.
The government wants prison education scheme to improve inmates' chances of gaining job skills while behind bars.
Skills minister John Hayes said "effective education" was key to reform of the justice system.
Finding a job was "essential" to breaking the cycle of crime within families and providing positive role models for future generations, he said.
Half of men in prison and up to 70% of women have no qualifications at all, with two thirds of prisoners having literacy levels below that expected of 11 year olds.
The review will involve all those within government who are involved in offender learning, as well as charity and voluntary organisations.
It is due to report back in the autumn as part of wider plans for reform and cost-saving in the prison sector.
'Effective courses'
During a visit to Wandsworth Prison in south London, Mr Hayes said: "In this country, crime costs us around £60bn a year - a truly staggering figure.
"And we know that over £9bn of that is the result of re-offending.
"This is clearly wrong and we need to focus on protecting the public from the costs and effects of crime.
"With effective and relevant courses, ex-offenders will be better able to find work and so be less of a concern to the wider community and more of an asset to the economy.
"The last thing society needs is people reverting to crime because they are, or feel they are, capable of nothing better. That is not good for society and it is not good for the offender.
"But we must have value for money - the review I am undertaking will look at current courses and where they can be better tailored to social needs."