Graduate tax proposal 'rejected'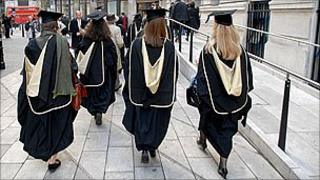 The coalition government will reject the idea of a graduate tax to pay for university fees in England, suggests a senior Conservative source.
Last week the Business Secretary Vince Cable set out the advantages of a graduate tax as a fairer repayment system.
But now it is believed there are plans to keep the payment link between students and individual universities.
As such a "pure graduate tax" is described as an "unlikely" option.
In terms of bridging the university funding shortfall, there are suggestions that universities could raise money from some form of bond issue.
Direct payments
The findings of a review of tuition fees and university funding, chaired by Lord Browne, are expected to be published in the week after the Conservative party conference in October.
This will make recommendations on how universities should be funded and whether students in England should pay more than the current fee level of £3,225 per year.
Setting out his own views on higher education, the Liberal Democrat business secretary, whose department is responsible for universities, last week said the idea of a graduate tax should be considered "as a priority".
But the coalition government is distancing itself from the idea that a graduate tax is the best way to get students to pay more towards the cost of their university education.
Instead ministers are exploring the options for a scheme that allows graduates to contribute towards their university education in a way that maintains the direct payment from the individual to the university.
By contrast, a conventional graduate tax would go directly to the Treasury.
However ministers are committed to moving away from the current tuition fee system. Simply raising the cap on fee levels - either to £5,000, £7,000 or removing it altogether - is not believed to be an attractive option for ministers.
Election pledge
In part this is because they are keen to avoid breaking the Liberal Democrats' election pledge to abolish fees.
But a pure graduate tax - an additional levy that would be imposed on all graduates - is out of favour for several reasons.
Ministers are understood to believe it would be unfair for high-earning graduates to pay back more than the cost of their degree. As one source put it, this would be seen as turning successful graduates into "milch cows" to subsidise the system.
Another problem worrying ministers is the fear that a graduate tax would encourage a "brain drain" as graduates leave the country to work abroad to avoid the extra levy.
But the greatest concern about the graduate tax is that it would break the direct link between students and the university.
As a senior source put it: "It is important that the money goes to the institutions. They have to have an incentive for student recruitment or a penalty if the numbers are falling".
Ministers are also understood to be very keen to put universities under pressure to respond to student demands on the quality of teaching.
'Contribution' not 'fees'
They believe the financial link between the student and their own university is an important driver in improving student satisfaction.
Although a number of variations on the current system of fees have been considered, none are believed to be finding much favour, as ministers are keen to move away from the terminology of "fees".
Ministers have looked at the Australian system - where fees vary according to the type of subject studied - but this is not regarded as a fruitful route.
There are also doubts about an above-inflation rate of interest could be charged on tuition fee loans. While this would bring extra income to the Treasury, this option is seen as too close to the current system.
So the current debate in ministerial circles is believed to be considering the precise form the "graduate contribution" will take.
Ministers would like the new system to be more progressive than the current fees method, in which all graduates start off by paying back the same amount for each year of study.
As such, although a pure graduate tax is being ruled out, the new system may still involve some graduates paying back more than others.
A spokesperson for the Business, Innovation and Skills Department said: "Last week Vince Cable outlined his interest in a system of variable graduate contributions that could replace the current fees arrangements Lord Browne confirmed that he was looking seriously at this option as part his wide-ranging review into university funding and this has not changed.
"The coalition agreement makes clear that the review's findings will be judged against a range of criteria including the impact on student debt, ensuring a properly funded university sector, improving the quality of teaching, increasing social mobility and attracting a higher proportion of students from disadvantaged backgrounds. We cannot pre-empt its recommendations."
Mike Baker writes a weekly education column for the BBC News website.