Special needs would lose out in academies plan - Labour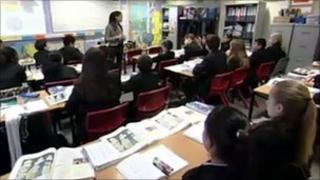 Children with special educational needs could lose out under government plans to allow all schools to become academies, Labour has claimed.
Shadow schools minister Vernon Coaker said provision could be damaged if special schools were also allowed to opt out of local authority control.
MPs are debating the Academies Bill which could revolutionise the way schools in England are run.
Minister Sarah Teather said all schools should have the same freedoms.
Under the academies programme, the government wants all schools to be able to become independent state-funded schools with greater freedom over their budgets, curriculum and the pay and conditions of staff.
Academy status would also mean that schools would have access to funds previously spent on their behalf by local councils on services such as those for children with special educational needs.
Labour had tabled an amendment to take away the right of special schools to become academies, but it was defeated.
Law fast-tracked
Children and Families Minister Sarah Teather said 50 special schools had expressed an interest in finding out more about the academies programme and that an advisory panel had been set up to consider the details of issues raised.
Because of the need for careful consideration of special educational needs provision, no special school would convert before 2011, she said.
The government expects the first of its new breed of academy schools to convert this September. All will be schools rated outstanding by Ofsted.
It is pushing legislation through the Commons in a week so laws can be changed in time for this to happen.
Mr Coaker said: "This bill inverts the way in which we pursued the academy programme. We established academies in areas of poor education performance, in areas of social disadvantage.
"This bill actually turns that on its head and allows outstanding schools to fast-track to academy status, allows primary schools for the first time to become academies... allows special schools to become academies, something that we think could damage the provision of education, particularly the provision with respect to special educational needs."
He said there was no evidence that giving special schools academy status would bring improvements, so the government was taking a "leap in the dark".
Former Labour minister Barry Gardiner said: "The centre will not be able to hold here. What we will lose is precisely the ability of a central provision through the local authority to co-ordinate the needs of all children with special needs."
Deny freedoms
Ms Teather said: "If we believe it is a good thing for schools to have freedoms it does not seem obvious to me why we should deny these freedoms to others.
"We think special schools should have access to freedoms we are offering to others.
"We are treating special schools in a different way. It is a longer process. We are not expecting any to convert before 2011. The secretary of state has set up an advisory group to try to work through the details of some of the issues raised."
She said giving special schools freedoms would allow them to make changes suitable for pupils and their parents.
Amendments added to the Academies Bill by the government include one which says pupils with special educational needs have the same rights as other pupils. Another says if an academy is named on a child's statement of special educational needs as the best place to send them, they should get a place there.
Ms Teather added that this was an improvement on the current situation.
Admissions
Dozens of amendments have been tabled to the Academies Bill. Key issues being raised include concerns that faith schools might be given extra freedoms under the legislation to teach Creationism - denied by the government - and increase segregation by changing their admissions policies.
Others include concerns about the fairness of admissions policies and those on excluding pupils.
Labour's Vernon Coaker said he was concerned that the legislation could allow schools to "select covertly" and "exclude more easily".
Schools becoming academies will have to comply with the School Admission Code, which sets out guidelines designed to ensure fairness in how school places are allocated, the government has said.
Both Labour and a group of Conservatives raised issues about grammar schools - from opposite sides of the debate.
Labour claims the legislation will open the way for more selection because grammar school which become academies might expand.
But senior Tory MPs, led by Graham Brady, are concerned that grammar schools, if they choose to become academies could later change their status to become non-selective without consulting parents.