Armed forces children could get extra school support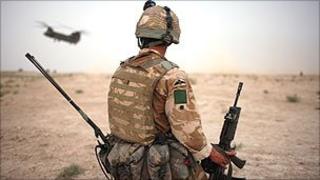 The children of armed forces personnel in England could be included in categories of deprivation to be supported by extra school funding.
The government has launched a consultation for a "pupil premium", which will target support at schools serving the least well-off families.
The proposals could mean extra support for between 15% and 26% of pupils.
"Schools should be engines of social mobility," says Education Secretary Michael Gove.
The amount of money that will be made available will not be known until after the comprehensive spending review in the autumn.
Schools will be able to decide how to spend any extra funds received from the pupil premium.
Free school meals
The pupil premium is expected to be made available from next year - but there will also be a review of all school funding in England after 2011-12.
Before the general election, the Liberal Democrats promised an extra £2.5bn to be added to school spending to fund a pupil premium - representing an extra £2,500 per year for every child on free school meals.
The consultation will also look at ways of saving money, including changes to the funding mechanisms for nursery places and pupil referral units.
The idea of a pupil premium is to give extra financial support to schools with pupils from deprived backgrounds.
The consultation will examine which pupils should qualify.
This is likely to include markers of deprivation such as qualifying for free school meals or those from families receiving out-of-work tax credits.
But the government is also considering including the children of people serving in the armed forces "who face unique challenges and need to be supported as they progress through school".
"Children from poorer backgrounds, who are currently doing less well at school, are falling further and further behind in the qualifications race every year," said Mr Gove.
"That in turn means that they are effectively condemned to ever poorer employment prospects, narrower social and cultural horizons, less by way of resources to invest in their own children - and thus a cycle of disadvantage and inequality is made worse with every year that passes."
The ASCL head teachers' organisation welcomed the principle of extra funding for deprived pupils, but expressed fears that it would mean other schools losing out.
"We are concerned that some schools may see their funding reduced and therefore there will be a detrimental impact if changes are introduced too quickly," said policy director Malcolm Trobe.