Aiming for the top A* at A-level
By Katherine Sellgren
BBC News education reporter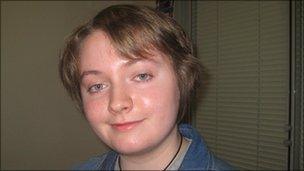 With a conditional offer to read English at Newnham College, Cambridge, Amy Parkin is hoping she meets the stiff entry requirement of two As and an A*.
"The A* is new, so I was quite daunted," says Amy, a student at York College.
The new grade is being awarded to the very best candidates for the first time this year, with results due in a week's time.
It was brought in to address concerns about grade inflation and to help universities distinguish between the good and the excellent.
The grade will be given to students who get an A grade in their A-level overall and an average of 90% or more in the A2 exams at the end of the final year.
So no pressure then. Amy, however, remains philosophical about this new benchmark.
"I think it's achievable - I've managed to get quite high marks before," she says.
"You just have to work as hard as you can and just put everything you can into your subject."
The new grade is not being awarded to a set percentage of candidates, nor a set percentage of those who achieve an A grade - it simply circles out those who have hit the very highest marks in their final year of sixth form.
The exams regulator, Ofqual, says: "The way in which the A* grade is to be awarded will mean that it is achieved by learners who have consistently performed very well throughout their A-level units and outstandingly on the A2 units, which incorporate the most challenging questions."
The regulator estimates that about 7% of all A-level entries last year would have gained an A*.
The new grade was brought in by the previous government because leading universities were finding it increasingly difficult to identify the best students, with more than one in four entries - 26.7% - getting the top grade in 2009.
Since the mid 1980s, when examiners stopped awarding A grades to a set percentage of candidates (about 9%), the proportion getting the top grade has risen steadily.
Indeed, research by exams group Cambridge Assessment found three A grades at A-level was achieved by 17.5% of students in 2009.
And yet most top universities have not asked prospective candidates to get the A* this year, with the exception of Cambridge University and, for some courses, University College London and Imperial College London.
UCL says it has decided to ask some candidates to get an A* as a filtering tool, because the pressure on places is so great.
"Year on year we are receiving more applications and an increase in the number of applicants receiving higher grades in their school-leaving qualifications," a spokeswoman says.
Cambridge may consider upping its offer to two A*s in the future.
But Oxford has not asked prospective students to get the grade this year, saying it wanted to see how A* grades were distributed.
Perhaps other universities will follow suit in time, when they have had a chance to examine its impact.
In the meantime, there are fears that the grade will favour students from independent schools.
Research by the Independent Schools Council concluded that, had A*s been awarded last year, some 36.5% of them would have gone to pupils at ISC schools, even though independent schools educate just more than a tenth of sixth-formers nationally.
The Office for Fair Access, which promotes fair access to higher education, fears the new grade could lead to fewer state school pupils getting into the best universities.
The National Committee for Educational Excellence has urged universities to ignore the A* grade for the first few years after its introduction.
And the Association of School and College Leaders expressed disappointment when Cambridge University announced it would offer places on the basis of A*AA.
High-achieving students themselves seem positive about the new benchmark grade, which gives them a chance to prove their star quality.
"It does put quite a lot of pressure on, but you're stressed for exams anyway," says Amy.
And Hamint Madhan, a student at St Francis Xavier College in south London, who is aiming for an A*, welcomes the new distinction - even if it does add to the pressure.
"It is extra work, you have to cover yourself all round," says Hamint.
"I do think it's a good idea - an A* makes you want to strive for higher academic achievement."
Related Internet Links
The BBC is not responsible for the content of external sites.