Academy applications from 150 top schools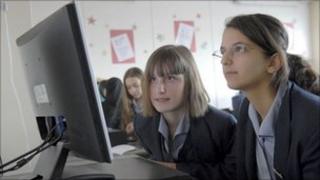 About 150 top schools in England have applied to become academies.
The schools want to opt out of council control and become funded by central government.
The government had previously said about 2,000 schools had expressed an interest. It is thought dozens of schools will convert in September.
Labour claims the list amounts to a "humiliating climb down" by the government.
Legislation paving the way for the changes was passed by Parliament earlier this week, amid accusations from Labour that it had been rushed through.
The government says the scheme to allow all good schools to become academies will drive up standards, because it believes the system will be less bureaucratic and that head teachers are best-placed to know what is best for their pupils.
Critics in the Labour party and the teaching unions say the changes will fragment the state system and that disadvantaged children will suffer.
The Department for Education's website has published a list of schools rated outstanding by Ofsted which have applied to become academies.
It includes about 45 primary schools, more than 20 grammar schools, a boarding school and some federations involving both primary and secondary schools.
Outstanding schools are being fast-tracked for academy status.
But most schools - including special schools - will be able to become academies provided that they meet the requirements of a "funding agreement" between themselves and the government.
Schools becoming academies will take more control of their finances, the curriculum and teachers' pay and conditions.
Under the funding agreement, schools have to show that they will offer a curriculum that is "broad and balanced".
They will not have to follow the national curriculum but will have to have a core of subjects including maths, English and science, the government says.
England is the only part of the UK with this type of school.
Labour has said the list amounts to a "humiliating climb down" by the government, saying that the number of schools which have applied for academy status is "a fraction of what they originally published".
Shadow education secretary Ed Balls said: "Michael Gove railroaded the Academies Bill through Parliament in a way that's only normally done for emergencies like anti-terrorism legislation. He said this was because hundreds of schools wanted to become Academies, over a thousand schools had applied and many of them wanted to open in September.
"Now barely ten per cent of that number, around 100, have even applied for Academy status and none of them will convert in September, Michael Gove must explain why he rushed this Bill.
"Michael Gove must now publish the criteria he is using to decide which schools will be granted Academy status and which won't. He said outstanding schools would be "pre-approved", but we already know that at least one of them has been rejected."
Previously, the Education Secretary Michael Gove had said he "was relaxed" about the number of schools which might convert in September, although he thought it would be "significant".
Damp squib
Dr Mary Bousted, general secretary of the Association of Teachers and Lecturers, said: "Interest in becoming an academy seems to be rather a damp squib.
"Our education system is too important to be subject to acting in haste, butrepenting at leisure. It would have been far better to have given adequate time for the Bill to be properly debated, to ensure the legislation was right so that schools knew what they were applying for.
"We remain concerned that many of the schools which have applied won't have carried out any form of consultation."
Christine Blower, general secretary of the National Union of Teachers, said: "We are far short of Michael Gove's much vaunted claims. Of the 153, a few may even have already had their application rejected
"This does not mean 153 schools will end up as an Academy - the application has to be agreed, a consultation exercise followed and a Governing Body may well change its mind in between an Academy Order being granted and the Funding Agreement signed."
The School Governors' Association had advised members not to rush applications.
The government has not yet said how many schools will convert to become academies in September.
But it has been reported that about 50 are expected to do so.