A-level reforms 'could cause collapse in maths take-up'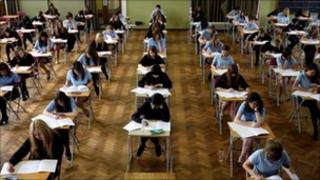 Plans to reform A-levels could trigger a "collapse" in maths student numbers and lead to university department closures, an academic body has warned.
Education Secretary Michael Gove wants to scrap modular A-levels in an attempt to "revive the art of deep thought".
But in a letter seen by the Times Educational Supplement, the Advisory Committee on Mathematics Education said harder exams could put students off.
Last week Cambridge University also criticised the A-level proposals.
The Advisory Committee on Mathematics Education (Acme) chair, Professor Dame Julia Higgins, warned making A-level maths harder could result in a drop in the number of students taking the subject.
Changes in 2000 led to a 19% drop in students taking maths.
Numbers took six years to recover after the qualification was modified again in 2004.
"We feel it is very important that we warn you that implementing such a policy runs a genuine risk of repeating the collapse in the numbers studying A-level mathematics," Professor Higgins wrote.
"We believe that it is very likely that we would again see university mathematics departments closing as a result of this fall in numbers."
'Invaluable indicator'
Currently, sixth-formers usually take four or five AS-levels in the first year, before specialising in three for the second A-level year - known as A2.
Professor Higgins said modular courses made learning more accessible to more students, and "almost all university courses" were now modular.
She said the most able students were best tested by existing examinations, such as the Advanced Extension Award and "Step" papers used for Cambridge University admissions.
Last week, Cambridge admissions manager Geoff Parks said AS-levels were an "invaluable indicator of progress".
He said the exams helped universities choose the best students and had widened participation by giving bright students from less privileged backgrounds the confidence to apply for top universities.
'Robust and rigorous'
Modular A-levels have been criticised for allegedly being easier than the traditional variety.
Critics have said they break up study into too many units, limiting the coherence of a course and the depth of understanding reached by students.
Earlier this month, Mr Gove indicated he wanted to scrap AS-levels in favour of more exams at the end of two-year A-level courses.
He said universities had complained A-levels were not preparing students sufficiently well and that he wanted them to be more academically rigorous.
In response to the comments from Cambridge University, a Department for Education spokesman said there was a need to restore confidence in public exams.
It said it would work with universities to ensure A-levels were "robust and rigorous".
But it said nothing had been decided on changes to the system yet, and reform plans would be set out later in the year.