Rebuild plans for 75 schools scaled back
By Hannah Richardson
BBC News education reporter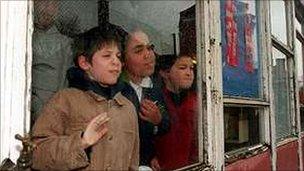 More schools are set for disappointment after the government said 75 academy rebuild projects are likely to be scaled back, a month after it scrapped England's school rebuilding scheme.
Education Secretary Michael Gove said the schools would not be proceeding in their present form and instead face further review.
But a further 33 schools and 44 academy projects will proceed as planned.
It comes after more than 730 school rebuilds were scrapped last month.
Mr Gove announced he was axing the Building Schools for the Future (BSF) scheme a month ago.
Many local authorities have spent millions of pounds on planning schemes which will not now go ahead.
There were some errors in the list of schools Mr Gove published that were to proceed, which left him having to apologise to council officials.
At that point there were also about 150 school projects left in limbo, with a decision still to be made on whether they would proceed.
This latest announcement means that half of those will definitely go ahead as planned, while the other half may proceed in a scaled back form.
These 75 remaining academies will not know until after the Comprehensive Spending Review in October how much if any funding they will get.
The Department for Education says there are no guarantees that they will receive any money at all.
Announcing the decision, Mr Gove said: "I know how hard councils and schools have worked on these projects and I have been anxious to ensure we can do everything we can, in difficult economic times, to support the crucial work of raising educational standards.
"Planning for these projects is well advanced and we are keen they should proceed without further delay."
The Department for Education said the decision over which projects were to go ahead was made on a case-by-case basis, on the grounds of need, whether there would be legal action and what money would be lost if the scheme was halted.
Shadow education secretary Ed Balls said the announcement was "another blow to schools and communities across the country".
"Half the schools under review will not now go ahead as planned, including the majority of new academy projects.
"While there is some good news for a small number of schools, this comes at the expense of hundreds of cancelled projects.
"The number of new school buildings stopped by Michael Gove now looks set to be over 800."
Related Internet Links
The BBC is not responsible for the content of external sites.