Hundreds of playground schemes mothballed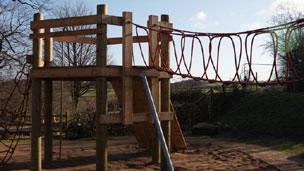 Hundreds of community playground schemes in England are being axed or scaled back because of government cuts.
Education Secretary Michael Gove has frozen grants to 132 councils for building and running up to 1,300 schemes, many designed by youngsters.
Only schemes where construction has already started are to be allowed. The government said it had inherited unrealistic spending commitments.
The £235m Playbuilder scheme was started more than two years ago.
It was launched under Labour to develop 3,500 playgrounds designed by and for the communities they were to serve.
Each local council was given cash to build 22 play areas. Some of these have now been built.
This year, grants for over 1,300 playgrounds in 93 local authorities had been approved.
The Department for Education could not say exactly how many playgrounds would be scrapped as it is only now collecting information about which schemes are in construction.
It has warned local councils not to incur any more costs on schemes and said it will review closely any commitments already made.
In his letter to the heads of children's services, Mr Gove named play as a key area affected by his department's contribution to reducing the public deficit.
He said he was reducing funding for play projects to protect frontline education services.
He also scrapped targets for the number of play facilities councils have to provide, and removed the protection from playground building budgets, saying any unspent money could be retained by his department.
Campaigners say that in the current financial climate this means play facilities are likely to bear the brunt of budget cuts.
Steve Chown, programme development manager at the charity commissioned to aid councils with their schemes, Play England, said many schemes would not now go ahead.
He said: "Communities are going to be disappointed that these play areas that they have worked so hard to set up are not now going forward.
"There would have been nine months to go on the programme, so there would have been quite a lot of organisations who were just ready to start building."
This was the case at a small £47,000 scheme in Oxfordshire.
Parent Emma Kane has worked with children in Hook Norton to set up a playground scheme which is now unlikely to go ahead. She said: "It's insane to cut what is such a small amount of money."
She said playgrounds were a "soft target" for the government's "drastic cuts."
She added: "Playbuilder is unique in that communities had to come together and work together to get the funding, in a perfect example of 'Big Society'.
"There's lots of disappointed children out there, they keep asking me what's happening and I just don't know what to say to them.
"Furthermore, as everyone knows, playgrounds fight childhood obesity. What does it say about the government's strategy to cut projects that promote both health and communities working together?"
In Richmond, south-west London, 10 schemes are set to be scrapped.
The council's children's services cabinet member Christine Percival said: "While we are disappointed, as it looks unlikely that we will be able to build 11 new play areas this year, we have to be realistic - the economic climate means there just isn't the money for these types of projects at the moment."
A Department for Education spokesman said play was important for children and families, but investment had to be realistic and affordable.
"We are currently talking to local authorities across the country to determine the level of play capital funding for this year that has either not already been spent, or is not yet contractually committed, and which can be saved.
"We've asked local authorities to put on hold projects where contracts have been entered into, but where works have not yet begun.
"We hope to be able to progress these sites subject to future affordability. Those play sites that are already under construction can continue and will be paid for."
Shadow education secretary Ed Balls said the news would be "disappointing" and "sad" for families in affected areas.
"These cancelled schemes were designed by local children and parents often working with the voluntary sector, so this decision doesn't say much for the government's big society agenda. And it will be a blow for hundreds of private sector jobs at this critical time for the economy," he said.
Related Internet Links
The BBC is not responsible for the content of external sites.