School staff get 1,700 complaints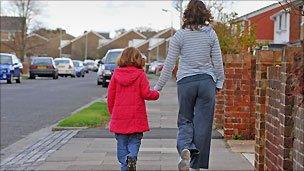 More than 1,700 staff in UK schools were accused of misbehaviour by parents or pupils last year, figures obtained by the BBC reveal.
More than half of these were allegations of physical assault or "inappropriate restraint", Freedom of Information data reveals.
And 143 of those accused were dismissed or resigned.
Teachers facing allegations in England have been promised anonymity until they have been charged.
More than 1,000 of the allegations related to teachers, but the rest were against a range of other staff working in schools, including teaching assistants, catering staff, lunchtime assistants, learning mentors, bus and taxi drivers.
The dismissals included a mini-bus driver who was accused of "unprofessional conduct with pupils".
School governors and a police officer based in a school were also the subject of complaints.
A school governor faced a criminal investigation after claims of sexual misconduct.
The figures show there were also 202 "disciplinary procedures".
These numbers are set against a context of more than 800,000 classroom staff, plus hundreds of thousands of other employees and volunteers who work for schools or with school children.
These figures, drawn from the responses of more than half the local authorities in the UK, also show that one in five complaints against school staff - almost 500 - were allegations about inappropriate sexual behaviour.
There were a total of 79 criminal investigations as a result of allegations from parents and pupils.
Complaints also included claims of bad language, inadequate supervision of children and the misuse of technology, such as inappropriate use of Facebook.
While only a small minority of allegations resulted in legal or disciplinary action, the survey also suggested a low level of malicious intent from complainants.
Teachers' unions have campaigned against the career-wrecking danger of malicious accusations against staff - but this survey only identified 50 complaints last year as "false or malicious".
Many more complaints were labelled as "unfounded" or "unsubstantiated".
The Westminster government has promised that teachers who face allegations will be given anonymity until the point when charges are pressed.
It has been claimed that the threat of false allegations has undermined teachers' authority in the classroom.
The ATL teachers' union says that this survey fails to show the "vast majority" of false allegations, as they would have been dismissed immediately and would not have reached the local authority.
The union has claimed that as many as one in four teachers has faced a false allegation - and says that it can takes months to resolve.
"If an allegation is investigated the staff member is usually suspended and told they mustn't have any contact with colleagues, leaving them totally isolated," says an ATL spokesperson.
"We want anonymity for staff, no automatic bar on staff keeping in contact with colleagues (who are quite frequently friends) and investigations to be speeded up."
A Department for Education spokesperson said: "The government believes teachers should be protected from the damage that malicious allegations can cause.
"Last month, ministers announced the intention to give anonymity to teachers accused by pupils and take other measures to protect against false accusations.
"Ministers are clear that they want to put an end to rumours and malicious gossip about innocent teachers which can ruin careers."
Related Internet Links
The BBC is not responsible for the content of external sites.