Science results 'suggest pupils drilled'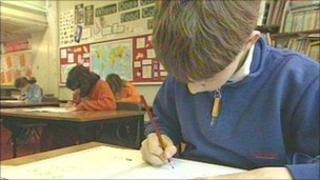 Primary science results in England - which for the first time used a sample of schools - suggest pupils have been drilled to pass tests in past years.
This year, 11 year olds' ability in science was assessed by teachers - with a 5% sample also sitting tests.
The percentage reaching the expected level in the sample was down to 81% from 88% on last year's test score.
Statisticians suggest the drop is due to the sample tests not being linked to the school league tables.
In the publication of the results, official statisticians say: "Comparisons with previous years are difficult as previous tests were taken under a policy of tests which fed the school accountability framework.
"These tests do not play any part in school accountability."
'High stakes'
The suggestion is that scores in previous years were pushed up by schools "teaching to the test" to make sure pupils reached the expected level.
The results of Sats tests in English, maths and science have been used in previous years to produce primary school league tables.
But the switch to teacher assessment for science this year means only maths and English results will now be used for league tables.
The statisticians suggest that this change meant that this year's science assessments were regarded differently by schools.
The results of national teacher assessments published last week estimated that 85% of 11-year-olds had reached the standard expected of them in science.
The sample test was administered by 5% of schools and taken by 27,210 pupils. They were designed to give a national measure of attainment.
'More predictable'
Assistant secretary at the National Association of Head Teachers, Sion Humphreys, said the fact that the high stakes nature of science tests had been removed this year meant that they would have been treated differently by schools.
He said: "It may well have been the case that given the fact that high stakes testing remained in English and maths that schools concentrated their efforts on these subjects."
Results in English and maths published last week showed a slight rise in the proportion of those reaching the expected level for their age.
Mr Humphreys added: "There was also a feeling that science tests had become more predictable for a number of years.
"Teaching assessments provide a 'best fit' on the course of study rather than the performance on one day," he added.
'The way forward'
General secretary of the National Union of Teachers, Christine Blower, said that the use of samples to show pupils' achievements had been a success.
"All in all, the sample tests point the way forward and I urge the secretary of state to conduct his review of national curriculum assessment with a view to putting the sampling system in place for both English and mathematics," she said.
Chris Keates, general secretary of the NASUWT, also backed the use of sampling.
"The use of sampling for the administration of Sats confirms that it is possible to achieve reliable national data without creating additional burdens for schools or skewing the curriculum for pupils," she said.
A Department for Education spokesman said: "Externally-validated tests give parents and professionals valuable information to gauge the standards of our primary schools and their pupils, and play a vital role in accountability."
He added that the government was committed to raising standards in science at all levels by ensuring children were taught the fundamental knowledge they needed to progress.