State schools sign up for international GCSEs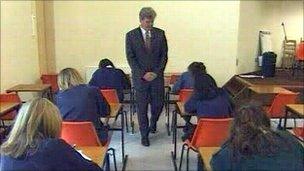 A handful of state schools in England have signed up to offer international GCSEs instead of traditional exams in subjects such as English and maths.
Sixteen state secondary schools signed up for IGCSE courses in July. A further 50 asked for information.
It comes a month after the government said it was reversing the ban on state schools teaching them.
IGCSEs are considered to be tougher than normal GCSEs and are favoured by many private schools.
They are linear in structure, with exams taken and coursework presented at the end of the academic year.
Regular GCSEs are modular, with content worked towards and completed at set stages during the year.
Many teachers say that the way the IGCSE is designed gives them more freedom to decide on how they teach pupils.
But the previous Labour government banned state schools from offering IGCSEs in core subjects such as English, maths and science as they failed to meet the requirements of the curriculum.
The chief executive of Cambridge International Examinations (CIE), one of the main awarding bodies offering IGCSEs, said Education Secretary Michael Gove's announcement that state schools would be funded to offer the exams had "opened the gates".
Ann Puntis said there had also been interest for CIE's teacher training events for the courses, with around 200 teachers in 90 schools registering.
"The hits from the UK on our international website have topped 26,000 - that's up 50% on the previous year," Ms Puntis added.
"It's a real step change. At the moment, we have got 350 schools (in the UK) who are registered to take IGCSEs, for the next academic year [from this September] we think there will be 500."
The vast majority of these are still likely to be independent schools.
Related Internet Links
The BBC is not responsible for the content of external sites.